Rob Kardashian Gets Arrested For Chasing Paparazzi, Video
|
March 26, 2012 at 6:32 PM EDT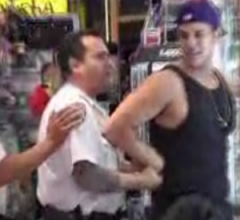 Rob Kardashian gets arrested for chasing paparazzi, video below. Rob Kardashian was handcuffed and briefly detained by police after chasing a paparazzi photographer into a Miami bong shop on Sunday. The reality TV star was talking with a woman when he noticed the man snapping pictures across the street. Kardashian apparently then sprinted after the paparazzo, eventually following him into a smoke shop, although he's never heard to threaten the photographer, let alone touch him.
In the footage obtained by TMZ, cops come into the store just as Kardashian is getting close to the paparazzo, who can be heard yelling, "He's attacking me… he tried to kill me!" There's no evidence (at least on tape) that Kardashian ever seriously threatened or "attacked" the paparazzo, but cops still cuffed him and ordered him not to resist.Kardashian was later released.
SHARE YOUR THOUGHTS! LEAVE A COMMENT NOW:
Commenting Rules:
Keep the conversation civil and on topic. If your comment does not add to the conversation or is insulting to others, it will be removed. Debate intelligently. No ALL-CAPS.