Project Runway All Stars Season 3 Spoilers: Week 8 Sneak Peek (VIDEO)
|
December 19, 2013 at 11:22 AM EDT
She may not be a regular judge on Project Runway All Stars Season 3, but she is a constant on Project Runway and now she makes her debut on Project Runway 2013 All Stars tonight, as Nina Garcia guests judges tonight's challenge! The remaining designers will be working with influential global fashion bloggers in coming up with hot trends for 2014. This is not going to end well, as they are working with clients and that never seems to go well! Check out a sneak peek at Week 8 on Project Runway All Stars 2013 below in our Project Runway All Stars Season 3 spoilers video!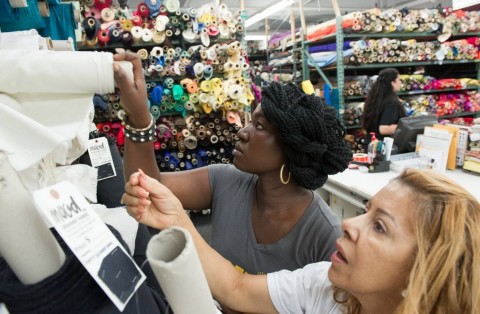 Last week on Project Runway All Stars 2013, the designers headed to the OVC headquarters to find out about their latest challenge, which was creating a Red Carpet look for QVC host Lisa Robertson. One day to create evening wear is never an easy task, which is why the designers were feeling the pressure on this one. Irina went for a white gown, which made it look like a wedding dress. That did not impress the judges, but then add on the fact that it was ripping at the seams on the runway and that was enough to send her home!

Tonight the designers will be greeted by Nina Garcia for the next challenge. We all know Nina is a hard judge, but she works in the fashion magazine world, so she knows what to look for and what will work. Now these designers are trying to figure out what will be hot in 2014 and have a day to work it out!
Check out the sneak peek of Project Runway All Stars Season 3 here:
Join us on Reality Rewind for all your Project Runway All Stars Season 3 spoilers, news, recaps, previews and predictions. Subscribe to our Email and RSS or like us on Facebook and follow us on Twitter for all our latest updates.
SHARE YOUR THOUGHTS! LEAVE A COMMENT NOW:
Commenting Rules:
Keep the conversation civil and on topic. If your comment does not add to the conversation or is insulting to others, it will be removed. Debate intelligently. No ALL-CAPS.