Project Runway All Stars Season 2 Preview: Episode 8 – Flapper Fashion Face-Off (VIDEO)
|
December 20, 2012 at 1:01 PM EDT
We are down to six designers on Project Runway All Stars Season 2 and we are looking at a fashion face-off tonight, as it looks the the six designers are paired up as we head back to the 1920's on PR All Stars 2012. What the face-off will be is beyond me, but you can check out the Project Runway All Stars 2012 preview in the clip below. We are getting closer and closer to the end, so each challenge is a huge one for the remaining six designers. Check out what will happen tonight on Project Runway All Stars Season 2.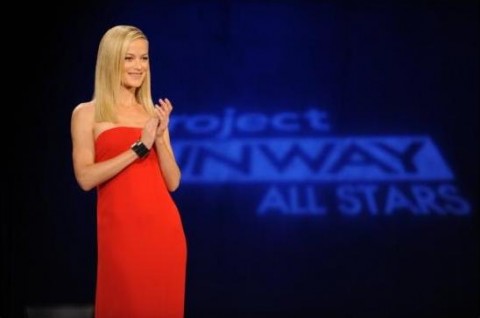 Last week on PR All Stars Season 2, it was the challenge that all the designers love to hate: the Unconventional Challenge! This time the designers headed to a Christmas store and had to create looks made from Christmas decorations and supplies. Silver and white seemed to be the theme of many of their looks, as Anthony Ryan, Uli and Laura Kathleen all seemed to make very similar dresses. In the end, Uli was chosen the winner and continued her need to add feathers into her looks. Casanova was overwhelmed with the challenge and tried two dresses before sending down his final look, which did not impress the judges and he was sent home!

Tonight, it looks like we are going back to the 1920's for flapper-inspired looks, which means even more feathers for Uli! She seems to be excited, but it looks like there will be some drama between the designers as they are paired up together. How will the pairing work? You'll have to tune in tonight to find out on Project Runway All Stars Season 2!
Join us on RealityRewind.com for all your Project Runway All Stars Season 2 news, recaps, previews and predictions. Subscribe to our Email and RSS or like us on Facebook and follow us on Twitter for all our latest updates.
SHARE YOUR THOUGHTS! LEAVE A COMMENT NOW:
Commenting Rules:
Keep the conversation civil and on topic. If your comment does not add to the conversation or is insulting to others, it will be removed. Debate intelligently. No ALL-CAPS.