Subscribe to Reality Rewind:
June 15, 2012
Oprah Grills Kardashians In Insane And Emotional Sneak Peek Next Chapter Video, Watch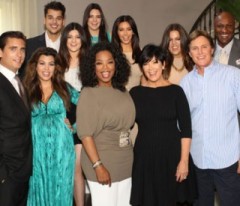 Oprah Grills Kardashians in insane and emotional sneak peek next chapter video, watch below. Oprah Winfrey interviewed the Kardashian family for this coming Sunday's episode of her OWN series "Oprah's Next Chapter and the sneak peek is crazy.
In the clip, the host can be seen posing some tough questions to Kim, Kourtney and Khloe, as well as their mom Kris Jenner and the rest of the famous clan. "It was such a surreal experience sitting down with Oprah," Kim wrote on her blog, adding, "It was an unforgettable experience for the entire family!"
Also being interviewed are the remaining family members such as Bruce Jenner, Kylie Jenner, Kendall Jenner, Robert Kardashian, Scott Disick, Lamar Odom, and of course father/step-father Bruce Jenner.
Which questions are you hoping Oprah asks which Kardashian? Do you think the family will come clean with some information? Will you be tuning in for Oprah's Next Chapter with the Kardashians?