Million Dollar Decorators 2012 Recap: Season 2 Premieres!
|
November 13, 2012 at 10:53 PM EDT
The decorators are back as Million Dollar Decorators Season 2 kicks off tonight on Bravo. Many fell in love with Jeffrey Alan Marks, Kathryn Ireland, Mary McDonald and Martyn Lawrence Bullard as we got a behind-the-scenes look at their lives in the decorating world last season. This is not something normally looked at, but these designers decorate for elaborate clients and it is worth a look on Million Dollar Decorators 2012. They do have stupid drama, but it is fun to see the finished project on Million Dollar Decorators Season 2.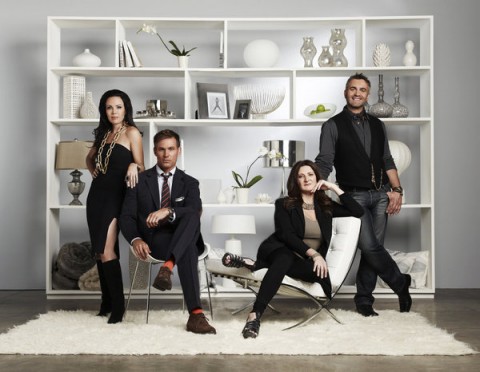 The show starts with Kathryn in her kitchen with her three sons and her crazy housekeeper Jacqueline, who I think was the big hit from Million Dollar Decorators Season 1. Kathryn and Jacqueline will be going to some wine tasting event, so obviously Bravo caught on and is trying to incorporate the housekeeper into the show more…I love it! They must first make a stop at one of Kathryn's clients.

Now it is a look at Martyn, as he talks with his partner Michael about their recent trip to Tahiti and now he will be heading to spend time with Tamara Mellon, the founder of Jimmy Choo. Did Martyn have a partner last season? I don't remember him being with anyone. Martyn will be finishing her $30 million apartment in NYC.
Mary McDonald heads out to meet her client Margie, who is one of the wealthiest people Mary has ever met. They are both acting like catty bitches and I am over them! Margie is not on board with Mary's ideas, which if you all remember, Mary doesn't like to not have her ideas shot down. She is now set to get Margie on board.
Kathryn and Jacqueline head out to their wine-tasting. They stop off at her client's place to check in on MDD Season 2. The house is about 500,000 sq. ft. and the budget is $1-2 million! Jacqueline is annoying Kathryn and they haven't even started drinking yet! Kathryn is seeing a lot of colors in the house. She has been on the job for six months and they are doing the install in three weeks, which is right on schedule.
Martyn heads over to Tamara's apartment. They have been working on it for about two years now, but they are about to finish it. He said the key to a great place in NYC is having an amazing dining room, which is currently her child's playroom. That will change now! Her daughter will now be able to redo her bedroom, which she wants to go from pink to blues and purples.
Martyn heads over to talk with Tamara and her daughter to go over the boards he has created for her room and the dining room. They decide on a more sophisticated, teenager-style room. He is going to be bringing in a 70s-style theme to the dining room, which Tamara loves. There is never an issue when the client doesn't care how much they spend!
He then heads out to do some shopping on Million Dollar Decorators Season 2. He has the marble table, but needs to find furniture to go with it. He finds some $20,000 chairs and a $28,000 chandelier. Who spends that much money on furniture?
Kathryn and Jacqueline head to the wine-tasting. It is just the two of them and the bartender, which Jacqueline proceeds to hit on him! She says he can take her to Santa Barbara and asks for his number, but he is not having any of it.
Mary McDonald meets with Margie again and the red is out and they are back to the cremes and whites for the bedroom. Margie is a piece of work and has no clue of what is going on. She is asking her dogs on how to decorate her house. They decide on a color, but it is green and Mary is not happy.
They all head out to do some shopping for Margie's place, which Mary is happy about. Mary will get her way, but she needs to convince Margie on Million Dollar Decorators Season 2. They find a chair that they both love. Meanwhile, Martyn heads over to check out the marble table he had designed for Tamara's dining room. He said it is perfect, but then he finds out it weighs 3,000 pounds! Martyn is not sure how he is going to get it into the apartment and now he must get a crane to put it in the apartment.
Martyn meets with his assistants and they tell him he can't get the table up there without using a crane to get it up to the apartment. They have to block off streets and get permits and it will cost over $10,000, but they must do it.
Now Kathryn and Jacqueline now head over for a massage at the spa and with no blurring, we pretty much see all of Kathryn's boobs as she pretty much has an orgasm on the screen! Did any of you really need to see that on MDD Season 2?
The day of the install has arrived for Martyn and he has booked the crane for two hours and he is hoping there are no issues. The table is out and now waiting on the crane. The painting and wallpaper is not done, which is no surprise with this show. He goes up to look and the bedroom is completely white, so nothing done. The dining room is not done either, so they will place the table and then cover it to not get red paint on it.
Mary heads over to check out Margie's place and hates the wallpaper the guys are installing. In walks Margie and she hates the wallpaper as well and wants to know who picked it out! This lady is crazy and now wants it down, but they have it cut for all the walls and is a $10,000 mistake. She wants to know who is going to pay for it and Mary said she is since she picked it out.
Since he has to get the table in, Martyn starts placing the rug in the dining room so the table can be brought up within the two hours he has for the crane. The crane arrives and Martyn is freaking out about it swinging in the air and hitting a building! The table makes it to the roof and then makes it into the dining room without any problems, even though everything around the table still needs to be done.
Mary is now doing install for Margie on Million Dollar Decorators 2012 and is hoping Margie stays away so she doesn't decide to change anything yet again. All this work is for a guesthouse, which is insane.
Back to Martyn and the fireplace guy has gone MIA. They have paid him over $10,000 and they can't find him. The fireplace is done, but need to find it and find someone to install it. Martyn's assistant goes on the lookout to find both.
Margie arrives as Mary finishes everything up. She comes in and Mary is worried, but Margie loves the whole look. She loves the wallpaper. In the living room, Margie wanted her rose painting in the room, but Mary said it is too bright. They put it up and let the dog decide. He growls at Mary, so I guess the painting stays!
Martyn's assistant goes over to the fireplace guy's place and it is a house and no one is answering the door. She calls Martyn and he is pissed and tells her just to come back to help organize everything on the site. They will file a police report and have sent some guys to get something in it's place and will take the loss. The piece arrives and everything is in place as Tamara and he daughter arrive. She thinks the dining room is fabulous. The daughter loves her new room, so it was a delicious moment!
Join us on RealityRewind.com for all your Million Dollar Decorator Season 2 recaps, news, previews and predictions. Subscribe to our Email and RSS or like us on Facebook and follow us on Twitter for all our latest updates.
SHARE YOUR THOUGHTS! LEAVE A COMMENT NOW:
Commenting Rules:
Keep the conversation civil and on topic. If your comment does not add to the conversation or is insulting to others, it will be removed. Debate intelligently. No ALL-CAPS.