Million Dollar Decorators 2012 Recap: Episode 2 – Partners In Pink
|
November 20, 2012 at 9:00 PM EDT
We saw the premiere of Million Dollar Decorators Season 2 last week and the decorators are back with bigger egos than ever. We saw Martyn Lawrence Bullard and Mary McDonald actually doing some work and Kathryn Ireland did a little work, but spent most of the time drinking with her housekeeper Jacqueline. Jeffrey Alan Marks was missing from this Million Dollar Decorators 2012 episode, which was shocking. He is back tonight with Ross, so don't fret and check out my Million Dollar Decorators Season 2 recap tonight.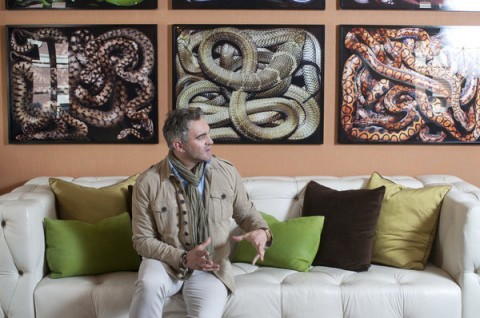 We saw Martyn working on a project for Tamara Mellon, the founder of Jimmy Choo. Of course the project came into a lot of snags, but it all came together in the end and the customer was impressed on MDD Season 2. Mary was working with a difficult client, but it seems like she always gets the difficult clients. I think that is more to do with Mary's personality than it is with her clients. Mary wants things done her way, even though she is working for these people. Kathryn was out drinking with the housekeeper we all fell in love with during Million Dollar Decorators Season 1. Jacqueline and Kathryn went on a wine-tasting get-together and had massages and Jacqueline was still funny as ever, so expect to see more of her this season!

Tonight it looks like it is all about some heated exchanges, either it will be between Jeffrey and Ross as they work on a new project or Martyn and Mary, as they try to collaborate on a project. With two big personalities like theirs, I don't think Martyn and Mary can work together on MDD 2012. Do you agree? Come back for more on tonight's Million Dollar Decorators Season 2 recap.
We start out tonight with Kathryn cooking some breakfast for Jacqueline, who apparently broke her foot while taking out the trash. Now she is staying in the guest house and Kathryn is taking care of her on Million Dollar Decorators Season 2. The breakfast consists of eggs and pizza.
We finally see Jeffrey and Ross on MDD 2012! They are eating breakfast and they are heading out to meet their friend, supermodel and now actress Amber Valletta. Ross is friends with Amber and they will be working on her bedroom. Ross arrives first, but then Jeffrey comes in. She says that Ross' hair needs revamping. The bedroom includes a sitting room and Jeffrey said it is a mess. Jeffrey gave the reins over to Ross on this one and see what he can do. Ross thinks the biggest challenge will be keeping Jeffrey happy.
Kathryn then meets with Carl, a representative for her client. They go over the ideas that she has come up with on Million Dollar Decorators 2012. He asks all these questions and she has no clue and Kathryn is overwhelmed and looks stupid. They have a week and he said she always comes in over budget, but on time.
Meanwhile, Martyn and Mary have been asked by One Kings Lane to design a line for them, but together. They have totally different views on things and Martyn is being over-the-top. Mary is not happy with him. He wears an Indian shirt and wants everything done like the shirt and has some boards to go over and Mary is thinking this is not going to work out very well.
Kathryn is now in Ojai for her project. The house has to have a very European feel to it, but still know they are in Southern California. She sees a lot of yellow and sunshiny colors in the house. She said the biggest challenge is getting all the components to blend together and knit. The house is all white right now, so she has a lot of work to do! Jacqueline keeps calling her to remind her to pick up some wine, which is hilarious!
So funny, but why is Nathan Turner not on this season? Mary meets with Nathan and is over Martyn and not sure if her voice will be heard on this collection. Mary wants to handle it professionally and calls Susan Feldman from One Kings Lane to tell her concerned that the collection might not be anything from her point-of-view. They set up a meeting to discuss Mary's ideas.
Kathryn heads out shopping to get some more pieces for the Ojai project. The cost of all these rugs is insane and cost what some houses cost! She pulls together different chairs for a round table and thinks it is perfect for the house.
Ross discusses the project with Jeffrey and he wants all the walls pink, even though Amber said she has a burly husband. Jeffrey thinks it will be obtrusive with all the pink, but Ross said he is in a pink phase. Jeffrey is a little concerned, but thinks he needs to see the finished project on Million Dollar Decorators 2012.
Ross meets with Amber and tells her that we should go pink and she said it is shocking and overwhelming. She said it is one of her favorite colors, but two rooms of it will be overwhelming. He convinces her and gets her on board, but he is worried about her husband. Amber said she hopes he likes it, but if not he can sleep downstairs.
Mary meets with Susan to discuss the designs and she feels like she is sneaking around on Martyn by having this meeting. Susan loves it, but she thinks she should meet with Martyn because it is supposed to be a collaboration from both of them. They need to work together, so Mary is going to head over to his office.
Time for the install of the Ojai house for Kathryn. She is nervous to see if all the pieces will actually fit into the house. Her assistant pulls her aside and said there is a minor detail and the finish on the bed frame is not done well and now they must redo it and it has to be done by the next morning, but needs 24 hours to dry. Kathryn is struggling with lining everything up and placing things in the house. Carl calls and said that the client won't be coming up the next day and instead he will be, so Kathryn is nervous because he has a very detailed eye.
Mary then heads over to meet with Martyn and tells him that she met with Susan and she felt overwhelmed with everything he brought to the initial meeting. He felt bad that there was a designers' meeting with him. He said to come to him and not to Susan and together they will be a stronger force.
Jeffrey gets a call from Chip, Amber's husband, and wants to meet with him. He said it is very pink and Chip is shaking after seeing it. This is the first time that Chip has seen it and Jeffrey did not know that Chip never saw it. The wallpaper is about to go up and paid for, so they can't go back. Chip is very nervous about it, but Jeffrey said he has faith in Ross and give it a couple days to see how it all comes together.
Jeffrey meets with Ross on Million Dollar Decorators Season 2 and said that Chip is worried about all the damn pink in this room. Jeffrey is starting to second-guess Ross and his communication with the client. Ross said everyone needs to settle down and let him do his thing and know that they are young and hip and the room will reflect that.
The last truck arrives for Kathryn, which has all the good stuff on it, so she is very happy. There is so much to place and she said it is going to be a really long night!
Jeffrey and Ross head out shopping and Jeffrey is just going to sit back and let Ross make decisions, but he will voice his opinion when it is needed. Apparently it is needed a lot because Jeffrey does a lot of talking while they are picking out things. Jeffrey is going to let Ross do his thing though.
Kathryn now has the workers blow drying the frame for the bed in the master bedroom. They have a display in one room of thread in a shelf and they have like 1,000 different colors and it is insane. The bed is still sticky, but she can't wait for it to dry. The workers said the paint won't come off, but it is just sticky.
Ross is working on the install now and this is one bright room and he is questioning himself a little now too. Jeffrey comes in and said he likes it, but not sure if Chip will like it. Jeffrey thinks he did a terrific job and it is exactly what Amber wanted, but will Chip get on board?
The room is done and Jeffrey loves it. The couple comes in and Amber loves the color and is very happy. Chip is still in shock. They see the bedroom and Chip is on board with the bedroom. It is exactly what Amber wanted, so I guess who cares what the husband wants.
Kathryn just finished and Carl comes in. His first impression is that he likes it. He thinks the color palette is very soft and the client will love it. Carl seems impressed and thinks she has done a great job.
Join us on RealityRewind.com for all your Million Dollar Decorator Season 2 recaps, news, previews and predictions. Subscribe to our Email and RSS or like us on Facebook and follow us on Twitter for all our latest updates.
SHARE YOUR THOUGHTS! LEAVE A COMMENT NOW:
Commenting Rules:
Keep the conversation civil and on topic. If your comment does not add to the conversation or is insulting to others, it will be removed. Debate intelligently. No ALL-CAPS.