MasterChef Season 4 Spoilers: Sneak Peek At MasterChef 2013 (VIDEO)
|
May 15, 2013 at 12:33 PM EDT
With the end of American Idol Season 12 this week, FOX is moving on to the next season and next show to take it's place and with that comes MasterChef Season 4, which premieres on May 22! I am a huge fan of MasterChef 2013 and look forward to seeing the new amateur cooks make their way into the MasterChef Kitchen! We have some MasterChef Season 4 spoilers below and a sneak peek at MasterChef 2013 below!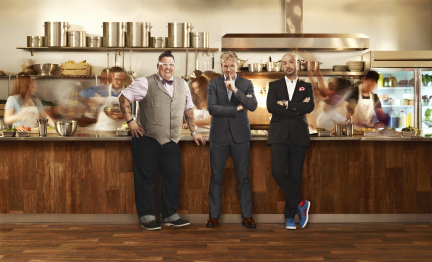 For Season 4, we have the return of all three judges: Chef Gordon Ramsay, Joe Bastianich and Graham Elliot. Will Season 4 bring us the first guy winner? All three seasons we have seen a female winner, including Season 3 winner Christine Ha. She amazed everyone on her way of winning last season, seeming she is legally blind! I loved, loved, loved this woman!

MasterChef Season 4 is surely going to bring us even more inspirational stories and some drama queens in the mix too. Things kick off next week with the amateur chefs creating their signature dishes for the judges in hopes of getting that white apron. Who gets one? Check out the MasterChef 2013 sneak peek below:
Join us on Reality Rewind for all your MasterChef Season 4 spoilers, recaps, news, videos, predictions and more! Subscribe to our Email and RSS or like us on Facebook and follow us on Twitter for all our latest updates.
SHARE YOUR THOUGHTS! LEAVE A COMMENT NOW:
Commenting Rules:
Keep the conversation civil and on topic. If your comment does not add to the conversation or is insulting to others, it will be removed. Debate intelligently. No ALL-CAPS.