MasterChef 2014 Spoilers: Sneak Peek at Week 3 Challenges (PHOTOS)
|
June 9, 2014 at 10:12 AM EDT
We have the first team challenge on MasterChef 2014, as the 20 remaining home cooks will head into the battlefield and take on feeding 500 soldiers on Master Chef 2014! That is quite a task, especially with MasterChef judges 2014 (Gordon Ramsay, Joe Bastianich and Graham Elliot) in their faces making sure everything is done correctly! Check out a sneak peek at Week 3 on MasterChef Season 5 below in our MasterChef 2014 spoilers!
>>>Click here for our Live Recap of MasterChef 2014 tonight!!!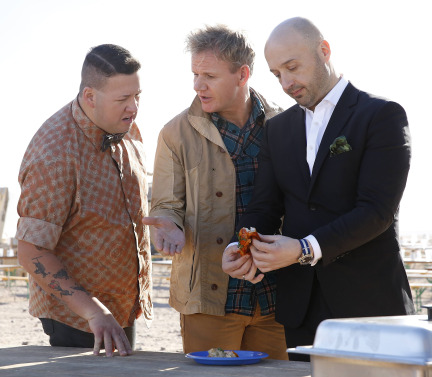 For tonight's new episode, the Top 20 on Master Chef Season 5 will be competing in their first team challenge! Here is the official synopsis from FOX:
[SPOILERS: Click here to meet your Top 22 home cooks this season!]
"It's the ultimate culinary war when the remaining 20 home cooks compete in the biggest field challenge in MASTERCHEF history: feeding an army of 500 servicemen and women on a desert army base. In their first team challenge, the contestants will split into two teams – the red team and the blue team – to create a hearty meal including one protein and two side dishes. Tempers flare as both teams struggle with consistency, and every dish counts as the troops will vote for their favorite dish and determine the winning team. Later, the losing team will face an intense pressure test featuring the all-American classic, blueberry pie. Find out whose dessert will prove to be a victory and who will be sent home in the all-new Top 20 Compete episode of MASTERCHEF airing Monday, June 9 (8:00-9:00 PM ET/PT) on FOX."
The pressure will be on for these Top 20 home cooks and the judges are not giving them any slack! Check out some photos from the challenge here:
Click on image for full view
Now take a sneak peek look at MasterChef 2014 tonight here:
Join us tonight on Reality Rewind for our MasterChef 2014 Recap! Let's watch together and see who got eliminated on MasterChef Season 5 tonight! Subscribe to our Email and RSS or like us on Facebook and follow us on Twitter for all our latest updates.
SHARE YOUR THOUGHTS! LEAVE A COMMENT NOW:
Commenting Rules:
Keep the conversation civil and on topic. If your comment does not add to the conversation or is insulting to others, it will be removed. Debate intelligently. No ALL-CAPS.