Subscribe to Reality Rewind:
July 4, 2012
Maria Menounos Wants Back On 'Dancing With The Stars'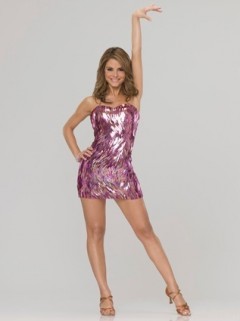 Maria Menounos wants back on 'Dancing With The Stars'. As you may remember, Maria Menounos was shockingly eliminated in the semifinals after receiving a near-perfect score and an amazing performance. But now, with DWTS' first-ever "All-Star" edition debuting in the fall, the big question remains: will she be returning to the dance floor?
HollywoodLife.com caught up with the Extra host at Zico's Charity Spin Ride for Challenged Athletes Foundation. When asked if she would return for DWTS "All-Stars", Maria said, "Please have me back! I would do it in a second, they know that!". She also didn't forget about her hunky partner Derek Hough, saying, "I had the best teacher in the world, and we had so much fun together!"Dancing obviously kept her in great shape, and a return to the dance floor would continue to keep her toned. But what is her go-to workout routine now? Maria was quick to explain that, "I'm not on a diet. I haven't been on a diet since college. I don't believe in them. When you give into your cravings, you probably eat less than you would if you didn't."