Subscribe to Reality Rewind:
May 21, 2012
Kristin Cavallari Has Baby Shower With Former Hills Co-Stars, Talks Having More Children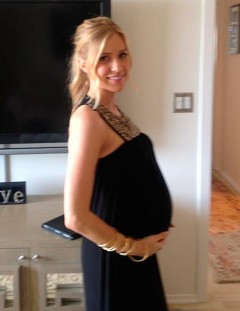 Kristin Cavallari has baby shower with former Hills co-stars, talks having more children. Kristin Cavallari's baby shower looked like a mini-Hills reunion. The pregnant 25-year-old — who wore a black maxi dress and several gold bangles — was feted by former MTV costars Stephanie Pratt, Heidi Montag, and Spencer Pratt at a private residence in West Hollywood, a source tells Us Weekly.
"Kristin was glowing and gorgeous. She looked so happy!" a source says of Cavallari, who entertained about 30 guests. "Guys were there, too. It was co-ed." Attendees were treated to cupcakes and a three-tier sponge cake by Pink Salt Event Cuisine, in addition to being served cocktails. "It was like a fun party," the source tells Us. Petals L.A. provided the flowers.Cavallari and her fiance, Chicago Bears quarterback Jay Culter received strollers, car seats, bath toys, blankets and clothes. The couple, who briefly ended their engagement before reconciling in 2011, have put wedding plans on hold until the arrival of their baby boy.
"We were talking about the possibility of having another kid right away and then getting married so we can have two kids close in age," Cavallari recently told Glamoholic. "We want four kids, so we're thinking maybe have one more, then get married, then have two more. But we'll see — it all depends on how the first one goes."