Kris Humphries And Ex Brother In Law Lamar Odom To Face Off At Nets Vs Mavericks Game Tonight
|
February 28, 2012 at 11:41 AM EDT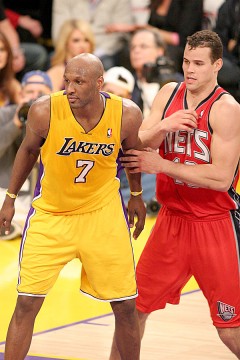 Kris Humphries and ex brother in law Lamar Odom to Face off at Nets vs Mavericks game tonight. Kris Humphries and Lamar Odom probably never thought they'd see each other again, thanks to Kim Kardashian. However, both NBA players might have to put their guards way up when the New Jersey Nets and the Dallas Mavericks battle it out in Dallas on tonight!
There's a 50/50 chance that the showdown will happen. Since Lamar is still out of town and tending to his ailing father, there's a chance he might not be on the court with Kris after all. We'll have to wait and find out. What would Lamar think of playing against Kris?
"[Playing against Kris] might be a little more awkward than going to LA," Lamar joked recently, referring to his trade from LA to Dallas.
Regardless of the non-relationship relationship, Lamar says he actually feels sorry for Humphries.
"I mean, I'd feel bad for anybody that was put in that position and had that happen to him, you know what I mean?" he said. "That's gotta be pretty tough."
Even if Lamar is absent from the duel, Kris is more than prepared for the hatred down south.
"Booing fuels him to play harder, so he's prepared for the hostility in Texas," a source tells Life & Style.
There is a bright side for Kris, however. Ex sis-in-law Khloe Kardashian will not be in the stands raining on his parade. She will be conveniently be in LA making her talk-show rounds. Coincidence?
SHARE YOUR THOUGHTS! LEAVE A COMMENT NOW:
Commenting Rules:
Keep the conversation civil and on topic. If your comment does not add to the conversation or is insulting to others, it will be removed. Debate intelligently. No ALL-CAPS.