Subscribe to Reality Rewind:
May 31, 2012
Kendall Jenner Being Pressured By Kris Jenner To Upstage Older Sister Kim Kardashian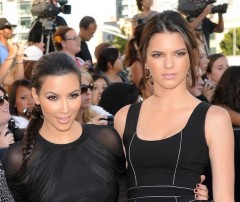 Kendall Jenner being pressured by Kris Jenner to upstage older sister Kim Kardashian. Kendall Jenner may be the only name we associate with Kardashian, that is, if Kris Jenner has anything to do with it. A friend of the Kardashians tells HollywoodLife.com exclusively, "Kris is grooming Kendall to be the next 'it girl'. She thinks Kendall can follow in Kim's footsteps and be even more successful than Kim."
The friend warns, however, "[Kris] is pushing her too hard and making her do photo shoots that are way too sexy for Kendall's age. Kim's claim to fame was her sex tape and Kris thinks Kendall needs to use her sex appeal to move ahead." Surely, though, Kris still encourages her 16-year-old daughter to attend college after high school, right? Wrong.Not so, claims the friend. "Kris is not encouraging Kendall or Kylie to go to university. She doesn't want them to go and makes that pretty clear." The friend continues, "For Kris, fame…is her number one priority. She wants Kendall to focus on modeling and eventually films, plus fashion. Basically, she wants to build a Kendall Jenner empire!"
Let's just hope that Bruce stages an intervention.