Subscribe to Reality Rewind:
February 2, 2012
Jersey Shore Season 5 Episode 5 Hilarious Spoiler Clip, Deena Electrocutes Herself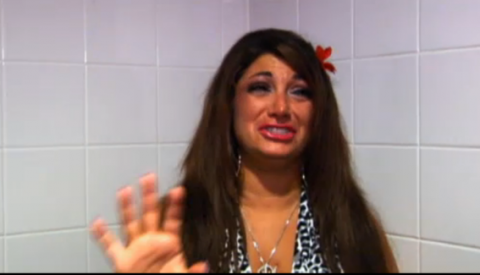 Jersey Shore season 5 episode 5 hilarious spoiler clip, Deena electrocutes herself. During tonight's episode of Jersey Shore, it looks as if Deena is the victim of a very unfortunate situation, when she electrocutes herself whilst trying to plug in her blow dryer. Yes, it was into an American outlet.
"What the hell? I got f–king electrocuted," she says to herself, and then tells us, "My whole arm was like tingling and I'm just like, I can't believe I just electrocuted myself."
Luckily, Sammi was there to offer some wisdom when a worried Deena asked, "I got f–king electrocuted, does it mean you get like f–ked up? Like do you think my brain's all crazy?"
Sam's reassuring advice? "I don't think so, I think you'll be OK. Police zap criminals with their electric gun all the time and they're all right."
Then the duo gets into whether or not it's the "same electrical," in the clip below.