Jennifer Lopez Debuts Racy Dance Again Music Video Featuring Boyfriend Casper Smart, Video
|
April 6, 2012 at 1:03 PM EDT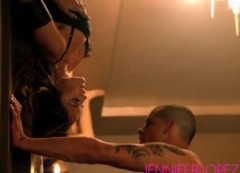 Jennifer Lopez debuts racy Dance Again music video featuring boyfriend Casper Smart, video below. Television screens steamed up during last night American Idol, as Lopez's music video debuted for the first time. In the video, the singer and boyfriend Smart are seen getting very up close and personal, particularly during a steamy dance, and ending with a touch of bondage.
Pitbull is also featured in the video, as he collaborated with Lopez on the upbeat dance tune. They have previously worked together for On The Floor. Earlier this week, Lopez teased the scandalous video with some intimate photos of her and Smart. This really seemed like a video to come out as a couple for Lopez and Smart.What do you think of the video?
SHARE YOUR THOUGHTS! LEAVE A COMMENT NOW:
Commenting Rules:
Keep the conversation civil and on topic. If your comment does not add to the conversation or is insulting to others, it will be removed. Debate intelligently. No ALL-CAPS.