Ice Loves Coco Season 3 Recap: Episode 4 – Baby Got Laughs!
|
November 18, 2012 at 11:15 PM EDT
The happy couple is back for more adventures tonight on Ice Loves Coco Season 3 and it looks like Ice T is put to the test at telling jokes, but will his routine work or will it bomb big time? It is all about Ice T trying to tell jokes tonight for a benefit for bulldogs that Coco signed him up for on Ice Loves Coco 2012. Also, Coco takes Spartacus and Maximus for a photo shoot for a calendar campaign to also help raise money.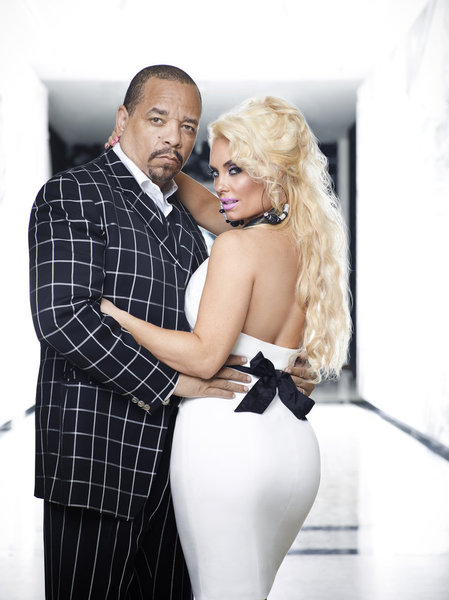 Coco thinks she is a professional photographer now because she has a camera. The dogs have Twitter pages and she needs to take pictures for their profile picture. The dogs have 42,000 followers. That makes me feel so shitty because here I sit trying to get to 500 followers!

Now Coco tells us what she looks for in a guy: a sense of humor. Ice tries to tell some jokes and he has everyone cracking up in his dressing room, but they are people that work for him…they have to laugh at him, right? Because his jokes weren't that great, but we shall see more later on on Ice Loves Coco Season 3.
Coco meets with Lorette Richin, the Executive Director for the Long Island Bulldog Rescue. She wants to help out in anyway that she can and they need more creative ways to help with fundraising. They need foster parents and people to adopt them. She wants to show people her photography skills and has decided doing a calendar of her dogs and being able to show the world her photography skills…that should be interesting.
She now comes up with having a comedy show as a fundraiser and bring in some celebrity comedians and then have Ice-T debut as a comedian. Coco breaks the news to Ice-T and he is not happy about it and is nervous. They then meet with Richard Belzer to get some more input and see if he will do a set for the fundraiser, which he agrees to.
Coco decides to work on her professional photography skills, so she has Soulgee pose for her as she tries to recreate one of his old pictures so he can give it to his mom. The pictures are not turning out and she thinks they are not on a professional level, which is to be expected on Ice Loves Coco 2012.
Ice-T meets with his friend Marc to discuss the comedy gig and he is worried about bombing. He tries to go through some practice jokes and Marc is no liking the jokes. It is for a benefit, so he tells him to PG-13 the jokes.
Richard Belzer is a comedy legend and has hung out with the big names in comedy, so he gives some pointers to Ice for the comedy gig. A comedy legend tells him to google "dog jokes" and that is his wonderful words of wisdom. Some people!
Coco brings the dogs for the photo shoot. She has a crew and all the equipment and she is nervous. The photos start and they are not working out at all. She is freaking out and then apparently gets in the zone and the pictures start working out and then she takes some shots of Soulgee again.
It is the night of the comedy show and Ice-T is backstage and he doesn't think he can pull this off. It makes me laugh that Ice-T is the headliner of a comedy show when he has never done comedy! The openers all do their thing and Ice is sitting in fear the whole time on Ice Loves Coco Season 3.
It is time for Ice-T to take the stage! He is Ice-T and he cannot do a PG-13 show, so he gets very raunchy. The crowd seems to be enjoying it and they all say he pulled it off. He said he will never do it again, but Coco said he will be doing it again!
Join us on RealityRewind.com for all your Ice Loves Coco Season 3 recaps, news, previews and predictions. Subscribe to our Email and RSS or like us on Facebook and follow us on Twitter for all our latest updates.
SHARE YOUR THOUGHTS! LEAVE A COMMENT NOW:
Commenting Rules:
Keep the conversation civil and on topic. If your comment does not add to the conversation or is insulting to others, it will be removed. Debate intelligently. No ALL-CAPS.