Ice Loves Coco Season 3 Recap: Episode 3 – Baby Got Forecast
|
November 13, 2012 at 7:04 PM EDT
The happy couple is back for another night of fun on Ice Loves Coco Season 3, as things are about to get a little stormy tonight. Coco gets the chance to be a meteorologist for the day and the baby talk continues and she contemplates freezing her eggs to ensure that they will have a baby some day on Ice Loves Coco 2012. Will Ice T go for that plan though on Ice Loves Coco Season 3?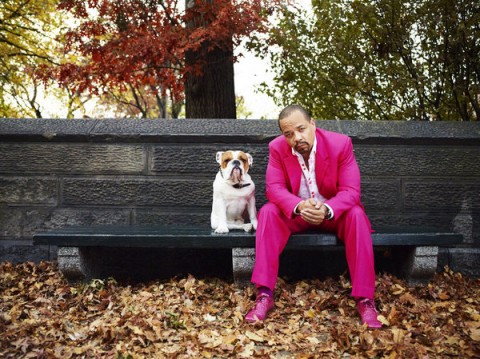 Things kick off with them arguing about Ice T's cereal bowl. He is happy to have the bowl and be able, as an adult, to eat cereal any time of the day. Coco thinks the bowl is disgusting and he needs to throw it out. He said he's been using it for 20 years now and it needs to have the perfect dimension.

They head out to dinner with some friends and start talking about the dating scene and how they are still in love, even after almost 12 years of being together. Diana mentions that she is 29 years old and wants to get married and have kids, which prompts Coco into thinking about it.
Coco then is in her office and talking with her assistant Soulgee and apparently Good Day New York wants her to come on and be the weather girl for the day. She has been fascinated by weather since a child and now she is nervous. Soulgee wants to google the weather for the proper terms. She starts freaking out, not considering they will tell her what to say and she doesn't have to figure out what the weather will be herself!
She then meets Diana for lunch and they start talking about babies. Coco said she is not ready and wants to be more steady in her career. They start talking about freezing their eggs and Coco is considering it, since she is 33 years old…I am in the mood to slap all of them tonight on Ice Loves Coco 2012.
Coco then talk to Ice-T about it and the conversation with Diana. She tells him she doesn't want to get pregnant right now and then babbles for a while and he tells her to start at the end. She tells him that she wants to freeze her eggs and he is shocked. She is worried about being fertile. They decide to investigate it some more and see what it all entails.
Back to her office and her and Soulgee are practicing for her guest spot on Good Day New York. They do some practicing and both of them look like idiots.
Ice-T and Coco head to Dr. Grifo's office to discuss freezing her eggs. The doctor goes over the procedure and now Coco is freaking out because she will have to be injected with a needle. He said it is his responsibility to make sure the eggs go to the right person and he has them both worried about everything now.
Coco then Skypes with her sister Kristy and they talk about her freezing her eggs. Kristy said their family has no issues with fertility and she is not getting older and many women have babies in their mid to late 30s. She tells Coco she is going to have a litter!
Soulgee and Coco head over to the studio to get prepped for her appearance as the weather girl. She meets with Mike Woods to get some pointers from a professional weatherman. She is being overloaded with information and is spazzing out in her head and is worried she is going to look like a total idiot….of course she will!
They call her out for the live broadcast of the weather and her mind goes blank. She says "50 per chance of rain" a "system" coming through later in the week and she points to the wrong spot on the green screen. She does a "Hair Forecast" for New York and redeems herself, but it still seems awkward on the set the whole time.
Back at their condo, Ice-T tells Coco that he is proud of her for the weather girl and there isn't a thing she can't do. They then start talking about freezing eggs on Ice Loves Coco Season 3. He tells her to go with her gut and she feels she is healthy and wants kids in a couple years and will be fine when they try. He then wants to clone Coco and sell them online to make some money!
Join us on RealityRewind.com for all your Ice Loves Coco Season 3 recaps, news, previews and predictions. Subscribe to our Email and RSS or like us on Facebook and follow us on Twitter for all our latest updates.
SHARE YOUR THOUGHTS! LEAVE A COMMENT NOW:
Commenting Rules:
Keep the conversation civil and on topic. If your comment does not add to the conversation or is insulting to others, it will be removed. Debate intelligently. No ALL-CAPS.