Ice Loves Coco Live Recap: Episode 6 – Baby Got Super Powers
|
December 2, 2012 at 9:30 PM EDT
The happy couple is back tonight for another episode of Ice Loves Coco Season 3 and it is all about super powers and scaring your family for the new episode of Ice Loves Coco 2012. It looks like Coco is going to live out a childhood fantasy as she makes her way to New York Comic Con. It is about scaring Ice-T's son Little Ice, after he has a run in with the cops. Ice Loves Coco 2012 may be silly at times, but it can be entertaining, so come back and join me for my Ice Loves Coco live recap!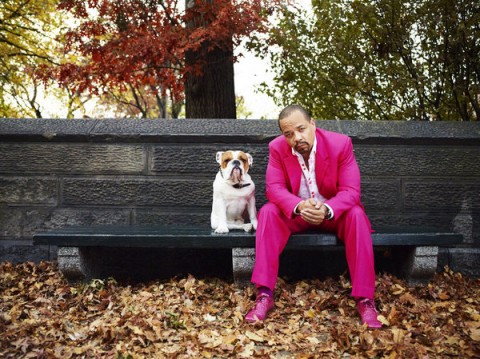 Last week on Ice Loves Coco Season 3, I think I heard enough ball talk to last me at least through the end of this year! Coco was sick of Spartacus and Maximus being put in their own room at doggy day camp because they have not been neutered. She looked into getting neuticles, which are prosthetic balls for dogs that have been neutered. It was so crazy to see every one of them talk about the dogs' balls and I was ready for the episode to be over, which did end with Ice and Coco deciding not to get them neutered!

Tonight on Ice Loves Coco 2012 we get to see Coco live out a fantasy of hers, as she is invited to New York's Comic Con. She has always wanted to be a super hero, but will the people at Comic Con help Coco become a super hero? Then it looks like Little Ice has a run in with the cops and to help straighten him out, hopefully, they take him over to the Andretti's household to teach them a thing or two about driving and family values.
We start out with Coco asking Ice if he wants to go talk at a prison, which he agrees to and will bring Little Ice, who has been getting in trouble. It will scare him straight.
Now it is time for Soulgee to talk to Coco and Ice about an artist that wanted to draw Coco in a comic book. They love the idea, but she wants to be a superhero! He gives her the name Super Shoe Girl. Ice calls her Thunder Butt.
Soulgee and Coco meet with Graig Weich, the comic book artist, about how he wants to draw her. He saw her on Law & Order: SVU and was inspired by her and wants to use her as a new superhero called Cleo.
Now Ice calls Little Ice and they talk about how he got arrested. He tells him that he needs Little Ice to come this weekend and tells him to take a rain check on the party he was planning on going to.
Little Ice arrives in town and they head out to see a mechanic and talk about cars. He is trying to scare him, but not in a crazy way. Coco then heads to meet the comic book artist. Her character will have the power to seduce and this inspires her now that she heard her powers. She starts doing some poses for the artist and she is falling in love! He invites her to come to the new York Comic Con and she is excited to go!
Coco, Ice and Little Ice head to the Andretti Family's house. They talk with Mario Andretti and Marco Andretti about driving the cars fast. Ice said he likes Marco because he is not resting on his family's laurels. He wants Little Ice to work hard at making a name for himself. Mario said nothing will come to them without a sacrifice.
They then have a table full of food and start enjoying some laughs together. They look at all the medals and Ice wants him to know it takes work to make it in life. Little Ice is making jokes, so now Ice must take him to the real deal: Sing Sing Prison.
Coco talks to Ice about going to Comic Con and dressing up as a superhero, which she is so excited about. She then meets with Sheldon, a costume designer, about designing a costume for her. She wants it to show more than just her body, but to show her power. Sheldon said he has a lot of work to do and not a lot of time on Ice Loves Coco Season 3.
Ice and Little Ice head to Sing Sing Prison and then inmates are having a debate, which they do every year. They starting talking to inmates and Ice is trying to scare the crap out of Little Ice. He is hoping the stories from the inmates register with him.
Coco arrives at Comic Con and there are a ton of people there. She is hoping that her costume is a hit. She was connecting with everyone, including girls, and she was so excited. The costume was a hit, but how could it not be when her boobs are hanging out of the costume. The comic book debuted at Comic Con and it was a hit, at least according to Coco.
Now on Ice Loves Coco 2012, Ice brought Little Ice to a taping of Law & Order: SVU. He wants him to see how hard he works at his job and that life takes work. Then he asks Little Ice if he got anything from Sing Sing Prison, which this should be interesting to see.
Little Ice said it is crazy to see someone who is facing life and is so positive. The age thing shocked him and how someone went in there at age 20 and is now 37 and a grown ass man. Ice said he wasn't always around as a father, so now he wants to guide him in the right way. Little Ice said he is not even going to pick his nose in front of a cop and wants to keep it on the straight and narrow. Ice said you have to give your kids the tools to survive and that is the best a parent can do.
Ice and Coco now check out the comic book and Ice likes the book and she looks good as Cleo. He tells her he hopes the trip for Little Ice was a success and now is the time for a son and his father to be on the same page. They then fight with their superpowers, which is lame!
Join us tonight on RealityRewind.com for my Ice Loves Coco Live Recap, news, previews and predictions. Subscribe to our Email and RSS or like us on Facebook and follow us on Twitter for all our latest updates.
SHARE YOUR THOUGHTS! LEAVE A COMMENT NOW:
Commenting Rules:
Keep the conversation civil and on topic. If your comment does not add to the conversation or is insulting to others, it will be removed. Debate intelligently. No ALL-CAPS.