Subscribe to Reality Rewind:
October 12, 2010
'Hoarders – Dawn & Linda' recap: More family members hate each other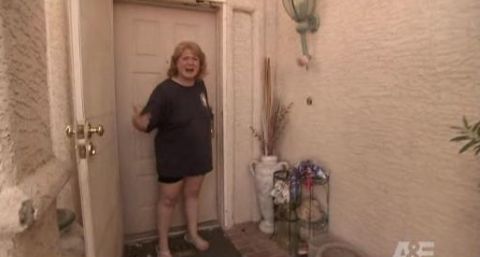 Monday's "Hoarders" started out kind of disappointing for me. There was no Dr. Robin Zasio. No Standolyn Robertson. No Geralin Thomas.
Then I realized that the two hoarders this week are so insane that I didn't even need my favorite doctors and organizers. And Matt, the organizer is there and I love him around the really crazy hoarders. He gets frustrated and tells them exactly what they need to hear. So things are looking up. Majorly.
Dawn
So Dawn's big issue is collecting 9/11 memorabilia. You know, that stuff they sell on TV at 3 am or in the back of a TV Guide. There's usually a tacky plate with an American flag and an eagle flying over ghost images of the World Trade Center. Those things are geared at vulnerable hoarders. And Dawn has responded as such.
Her obsession stems from a legitimate source. She lost a cousin in the twin towers. He was a firefighter and lost his life that day along with too many others. So she's memorializing him and everyone else who lost their lives that day.
And per usual, there's more than just those collectibles. There's garbage. Rotten food. The whole works. And as I mentioned earlier, it started out slower than even a typical episode. But then someone threw away a Mr. Potato Head. And all hell broke loose.
Seriously. A Mr. Potato Head. Granted, it was a Darth Vader Mr. Potato Head, but a Mr. Potato Head nonetheless. Nothing to really freak out over, right? Well try telling Dawn that. Out of control. And just when you think it can't get any worse, someone accidentally throws away a fake plant! Dawn cusses like a sailor and basically throws a fit that would make a 4-year-old in a toy aisle look weak.
She pulls the typical, "just take it all!" and "I can't have anything!" crying game and manipulation that every hoarder does. But I think Dawn realizes her kids will eventually hate her and if her marriage is going to fail, she'd rather it fail in a clean house. So she cooperates.
But just as her segment is over and I was ready to breathe again, she discovers someone broke a cheesy glass sculpture of the twin towers. And of course it was like 9/11 all over again. Luckily even the producers had had enough and didn't spend much time on the final meltdown.
Linda
Dawn's story could be called a complete success when compared to Linda's. First of all, Linda was a tricky, sneaky little one. I thought, "aww," she's quiet and sweet. She's here to clean up her house and her life so her poor sick husband doesn't die upstairs like a prisoner. But then she reveals herself. She might not be as much as a baby as Dawn, but she's just as intense. Because her emotions fall on the opposite side of the spectrum as Dawn's. Meaning there are none.
Even when Matt (who tells it like it is) asks her if she'd rather save her plants or her husband's life, she can't even answer. He also calls her a very good hoarder, a master manipulator. She places the blame on everyone but herself and has her three daughters at war with each other just to get herself of the hook.
Linda spends most of her segment arguing with her daughters over a pile of junk in the back yard. This is after she threatened to leave because the 1-800-Got Junk trucks pull up outside where her neighbors can see. Have I ever mentioned how much a LOVE those trucks? I love that they just spell it out. If the cognitive therapy that goes on inside the house doesn't do the trick, maybe the embarrassing trucks with all your crap in the back outside will.
It soon becomes clear that Linda's family probably doesn't really care that she's hoarding. They just like to fight. And even though they pretend like they've come together, we learn in the follow up at the end that that wasn't true (see follow up below).
Dawn's follow up
"Hoarders" tells us that Linda's relationship with her daughters have improved and they're enjoying their own rooms. We also learn that her marriage is still under strain. Maybe that has something to do with the fact that when she was asked to compliment her husband, she couldn't do it without calling him an asshole. Why more people don't get divorced is beyond me.
Linda's Follow up
"Hoarders" tells us that Linda's husband hates that he was moved downstairs (which was the whole point of the episode) because he doesn't have privacy. Well there you go. What a way to thank all those who helped you. We're also told that Linda's daughter says she's starting hoarding again. Lovely.