Hell's Kitchen 2013 Preview: Episode 18 – Superstars Competition (VIDEO)
|
June 27, 2013 at 12:27 PM EDT
We were left with another "To Be Continued" on Hell's Kitchen 2013 last week, as the five remaining chefs received their black jackets and competed in an individual challenge, but as dinner service on Hell's Kitchen Season 11 was approaching Chef Gordon Ramsay had another surprise for them! What was it? They would be competing against some culinary superstars during the dinner service! Check out the preview below and come back tonight for our Hell's Kitchen 2013 Live Recap and see who went home on Hell's Kitchen 2013 tonight with us!
>>>Click here for our Live Recap of tonight's episode!!!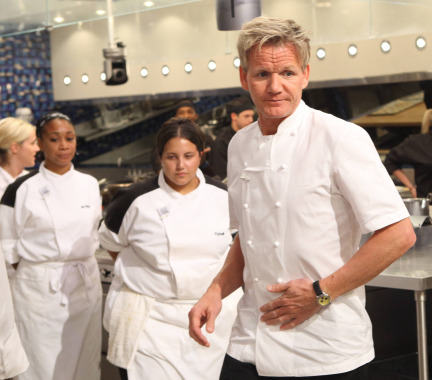 Chef Ramsay surprised the five remaining chefs last week with video messages from their loved ones, but then topped it when the loved ones were right there in Hell's Kitchen on FOX! They got some quality time with them, but then found themselves competing in an individual challenge to win an afternoon with their family! Mary won and loved the time with her family, especially since she didn't have to dig through trash for the recycling like the losing chefs!

The show ended with Chef Ramsay informing the chefs they would be completing the dinner service tonight as one team, however they would be competing against a team of culinary superstars! Who will it be? I guess we find out tonight, but get a sneak peek here! Come back tonight for our Live Recap:
Join us tonight on Reality Rewind for our Hell's Kitchen 2013 Live Recap! Let's watch together and see who was eliminated on Hell's Kitchen Season 11 tonight! Subscribe to our Email and RSS or like us on Facebook and follow us on Twitter for all our latest updates.
SHARE YOUR THOUGHTS! LEAVE A COMMENT NOW:
Commenting Rules:
Keep the conversation civil and on topic. If your comment does not add to the conversation or is insulting to others, it will be removed. Debate intelligently. No ALL-CAPS.