Subscribe to Reality Rewind:
July 3, 2012
Deena Cortese Pleaded Guilty for Drunkenly Dancing in The Road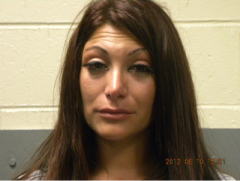 Deena Cortese pleaded guilty for drunkenly dancing  in the road. Deena Cortese faced a judge on Tuesday in Seaside Heights, New Jersey. The Jersey Shore star, who was busted dancing drunk in the streets and interfering with the flow of traffic, pleaded guilty to a charge of "failing to use the sidewalk."
A charge of disorderly conduct was dropped. Cortese apologized to the court for "causing any trouble." She was fined $106 and has to pay an additional $33 in court costs. just to underscore that point, she got a talking-to from her mother outside municipal court, where Cortese had just pleaded guilty to failing to use the sidewalk and paid a fine."He doesn't want to see you in that courtroom again," Deena's mom, Joann Cortese, said, referring to the judge who had imposed the fine. Then they hugged and kissed goodbye — on the sidewalk. "Love you," her mom said. "Love you, too," Deena replied.
The pint-sized reality star also had to pay $33 in court costs but avoided a criminal conviction by pleading guilty to a violation of the motor vehicle code. Police arrested her on June 10, saying she was dancing in a roadway and interfering with the flow of traffic. But municipal prosecutor Kim Pascarella said the prosecution did not have enough evidence to prove that charge, agreeing instead to allow her to plead guilty to the lesser offense of not using a sidewalk when one was provided.