Dancing with the Stars Predictions: Who Wins Dancing with the Stars All Stars?
|
November 27, 2012 at 1:00 PM EDT
For the first time in the history of the show, we saw an All-Girl Finals on Dancing with the Stars All Stars last night. This was a huge feat to do, seeming they took down Emmitt Smith and Apolo Anton Ohno last week on DWTS All Stars. The ladies brought their best dances last night for Part One of the Dancing with the Stars 2012 Finals. Tonight they will have an "Instant Dance" to take part in, which will complete their scoring from the judges, but who wins Dancing with the Stars All Stars? Find out in my Dancing with the Stars predictions!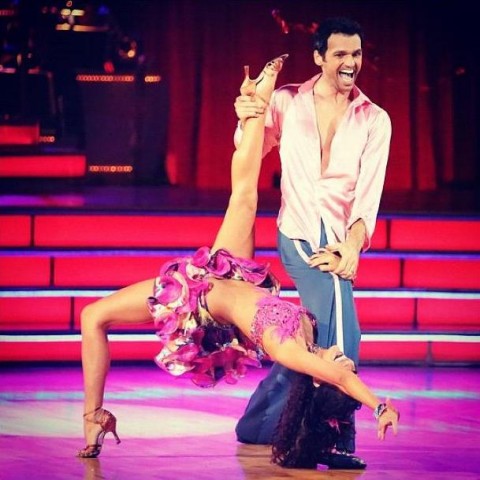 After the first night of dancing, the scores are: Melissa Rycroft and Tony Dovolani have a perfect score of 60.0/60.0 for the night, which is a norm for them the past few weeks. Then it is Kelly Monaco and Val Chmerkovskiy with 59.0/60.0 after earning her first 10 ever while on DWTS. In third place are Shawn Johnson and Derek Hough, who have 57.0/60.0 after their two dances. They did get a 30/30 on their freestyle dance, but they re-did a Quickstep routine that breaks all the rules with the choreography and the judges "had to" give them low scores. I think it is bullshit because the dance was so entertaining and I am a fan of this couple take chances and doing dances that are fun to watch on DWTS All Stars.

Tonight, the couples will take on an "Instant Dance," where they will pick the dance style and song live on-air and then have to perform that dance for America. The judges will score it and that will be added into last night's performance numbers and America's votes and a winner will be crowned on Dancing with the Stars All Stars, but who is going to take home the Mirror Ball Trophy?
Personally, I am throwing out the possibility of Kelly and Val winning this thing. I don't know how they made it to this point in the season, so I am saying they are third place. That leaves us with Melissa and Tony or Shawn and Derek. Here are my thoughts: I am rooting for Melissa and Tony because they have never won it before, so they have my vote there. I am rooting for Shawn and Derek because they put on an awesome show and their dances, even though judged harshly, are done really well. I would not be upset to see either of them win, but I think Shawn and Derek are going to come out on top. I think they both have huge fan bases, plus they brought the Fierce Five from the U.S. Women's Gymnastics Team on the show for the freestyle dance, so I think their fans will support as well.
It is all about fan support on DWTS, which is why I think Kelly and Val have made it this far, but I think Shawn and Derek have more fans and will win Dancing with the Stars All Stars. Which couple do you think it will be?
Join us tonight on RealityRewind.com for my Dancing with the Stars All Stars results LIVE recap. Let's find out together who is eliminated on Dancing with the Stars All Stars.  Subscribe to our Email and RSS or like us on Facebook and follow us on Twitter for all our latest updates.
SHARE YOUR THOUGHTS! LEAVE A COMMENT NOW:
Commenting Rules:
Keep the conversation civil and on topic. If your comment does not add to the conversation or is insulting to others, it will be removed. Debate intelligently. No ALL-CAPS.