Dancing With The Stars Eliminates Jaleel White, Video
|
May 1, 2012 at 11:24 PM EDT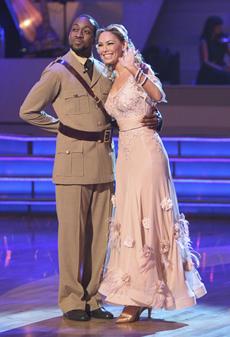 Dancing With The Stars eliminates Jaleel White, video below. Another couple waltzed out of the ballroom on Tuesday's Dancing with the Stars. Jaleel White and Kym Johnson were eliminated after failing to win the Dance Duel. The pair went toe-to-toe with Roshon Fegan and Chelsie Hightower, whom the judges unanimously thought deserved to stay in the competition another week.
It came down to a dance duel between Disney star Roshon Fegan, who had to dance in the duel last week against Gladys Knight, and Family Matters star Jaleel White. Before he danced, Jaleel described grouchy judge Len Goodman as "the old guy outside the grocery store who won't give a kid any money for candy." The two stars danced a rumba with their partners at the same time. The judges said both did well, with Len adding, "It breaks my heart that one of you has to go, but it's the name of the game." In the end, all three voted to save Roshon.
"I'm going to tell you a secret," said Jaleel at the end. "I really only thought I'd last about three dances in this competition. … I've made incredible friends. The fans have been incredible. I love Roshon Fegan. I'm happy they saved him; he has a bright future. Len, give him a 10. He's the little kid outside the grocery store!"
SHARE YOUR THOUGHTS! LEAVE A COMMENT NOW:
Commenting Rules:
Keep the conversation civil and on topic. If your comment does not add to the conversation or is insulting to others, it will be removed. Debate intelligently. No ALL-CAPS.