Dancing with the Stars All Stars Predictions: Week 9 – Who Makes The Finale?
|
November 20, 2012 at 1:00 PM EDT
It was a big night on Dancing with the Stars All Stars last night as the final five couples danced their butts off on the dance floor in hopes of making the DWTS All Stars Finale next week! It was a great show, as all the couples took on two separate dances. The judges seemed really hard on some couples and more lenient with points for other couples, but who knows. America's votes give that final push to see who was eliminated on Dancing with the Stars All Stars. Find out who I think it will be in my Dancing with the Stars All Stars predictions.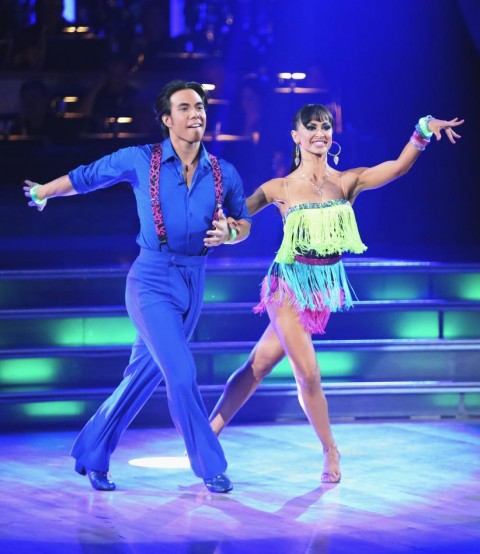 It was Michael Jackson Night last night, as the couples performed a ballroom dance to one of his songs from his Bad album. They then also performed a song that was picked by their opponents last week. They were crazy-themed dances, that featured "Big Top" Jazz and "Knight Rider" Banghra. After the judges points were all added up, here is where things stand on Dancing with the Stars All Stars:
Shawn Johnson and Derek Hough: 59.0/60.0
Melissa Rycroft and Tony Dovolani: 57.5/60.0
Apolo Anton Ohno and Karina Smirnoff: 57.0/60.0
Emmitt Smith and Cheryl Burke: 54.0/60.0
Kelly Monaco and Val Chmerkovskiy: 54.0/60.0
So, will it be the lowest scoring couples going home? I don't think so. There always has to be shockers on DWTS, so I am not predicting that it will be a smooth night tonight. I think Shawn and Derek and Melissa and Tony deserve to be in the finals and they will be in the DWTS All Stars Finale. As far as the other three couples, I am torn.
Apolo and Karina have the higher scores, but they don't seem to have as big of fan support as the other couples. Emmitt and Cheryl have that fan support and it could be enough to send them to the finals. Kelly and Val have made it further in the competition than I thought they would and I think that is thanks to the fans. I think Emmitt and Cheryl will get that last spot in the finale and we will see both Kelly and Val and Apolo and Karina leave us tonight.
What are your DWTS All Stars predictions for tonight?
Join us tonight on RealityRewind.com for my Dancing with the Stars All Stars results LIVE recap. Let's find out together who is eliminated on Dancing with the Stars All Stars.  Subscribe to our Email and RSS or like us on Facebook and follow us on Twitter for all our latest updates.
SHARE YOUR THOUGHTS! LEAVE A COMMENT NOW:
Commenting Rules:
Keep the conversation civil and on topic. If your comment does not add to the conversation or is insulting to others, it will be removed. Debate intelligently. No ALL-CAPS.