Dancing with the Stars All Stars Predictions: Week 8 Results Show – Double Elimination!
|
November 13, 2012 at 3:45 PM EDT
America was busy voting for the President of the United States last week, so there was no elimination on Dancing with the Stars All Stars. All that means now is there is a double elimination tonight and we will see two couples leave us on Dancing with the Stars 2012. What two couples that will be is beyond me because this has been a crazy season on DWTS All Stars, but I will make my predictions for Dancing with the Star All Stars.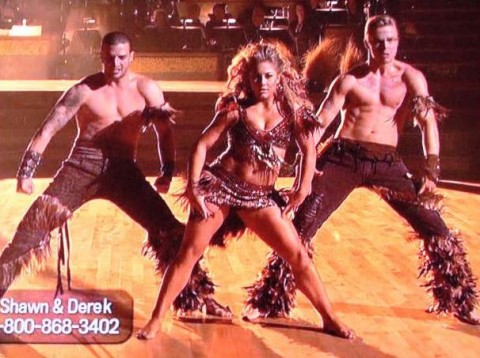 Last night on Dancing with the Stars All Stars, the couples saluted the military veterans in honor of Veterans Day. They each danced to that theme for their first routine and then they formed trios to take on trio dances. It was a perfect night all the way around for Melissa Rycroft and Tony Dovolani, as they scored two 30's and after two weeks of scoring they are the clear leaders with 99 points. On the bottom of the leader board are Kirstie Alley and Maksim Chremkovskiy with just 79 points. The other couples kind of all mix in there with totals ranging from 91.5 to 93.5. It is a tight race in the middle.

With that being said, I think the end of the line has come for Kirstie and Maks. She has admitted being overwhelmed with the dancing and everyone being so good on DWTS All Stars, but they have done decent and I enjoy seeing her on the dance floor. That is too big of a score difference to make up and Kirstie will be sent home packing.
As far as the other couple, that is a toss-up. I think they will have Gilles and Peta and Kelly and Val in the bottom two couples. No way Gilles is going home, but I think ABC will do it to mix things up. Kelly and Val have been low on the leader board for most season, so I think the journey ends for them tonight as well. Who do you think was eliminated on Dancing with the Stars All Stars?
Join us tonight on RealityRewind.com for my Dancing with the Stars All Stars results LIVE recap. Let's find out together who is eliminated on Dancing with the Stars All Stars.  Subscribe to our Email and RSS or like us on Facebook and follow us on Twitter for all our latest updates.
SHARE YOUR THOUGHTS! LEAVE A COMMENT NOW:
Commenting Rules:
Keep the conversation civil and on topic. If your comment does not add to the conversation or is insulting to others, it will be removed. Debate intelligently. No ALL-CAPS.