Dancing with the Stars 2014 Spoilers: The Switch Up Voting Starts Tonight!
|
March 24, 2014 at 10:12 AM EDT
With the many changes on Dancing with the Stars 2014, this one could go down as the worst change ever (or at least the most-hyped change ever, but then turns out to be not as drastic as we all think it will be). Tom Bergeron and Erin Andrews hinted at it at the very end of the Dancing with the Stars Season 18 premiere last week, but were rushed through everything at the end. Dancing with the Stars 2014 spoilers all tell us that we will be things switched up this season and now that Switch Up voting begins tonight!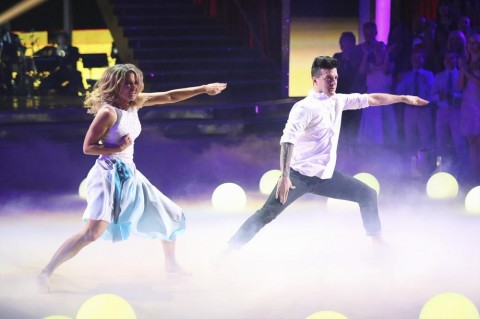 Last week on DWTS 2014, the new couples took the dance floor together for the first time. As usual with a premiere on Dancing with the Stars, the judges were pretty lenient and it was all about getting to see who was on the show and seeing how good of a dancer they just might be. There were some low scores and some high scores, but most of the couples ended up in the middle of the pack with an even playing field after Week 1.
[PHOTOS: Click here to check out Season 18 couples!]
However, Tom and Erin talked about The Switch Up, which will have fans of the show voting for who the stars will be partnered with and everyone has to switch??? This seems crazy, but here is word from ABC:
"'The Switch Up' begins and voting guidelines will be revealed live. For the first time ever, America will be given the power to vote and change celebrity and professional dance pairings. This new rule will affect all couples as they will be required to switch partners. Never before have dance partnerships been split up during the course of competition."
This is a huge move, if the couples actually switch up and stay that way for the remainder of the season. I think there is a twist in there somewhere and the couples will switch for one week or something. How would eliminations on Dancing with the Stars 2014 work? This all seems like a mess, but we'll find out more details tonight!
Join us tonight on Reality Rewind for our Dancing with the Stars 2014 Recap. Let's watch together and see who got eliminated on Dancing with the Stars Season 18 tonight! Subscribe to our Email and RSS or like us on Facebook and follow us on Twitter for all our latest updates.
SHARE YOUR THOUGHTS! LEAVE A COMMENT NOW:
Commenting Rules:
Keep the conversation civil and on topic. If your comment does not add to the conversation or is insulting to others, it will be removed. Debate intelligently. No ALL-CAPS.