Dancing with the Stars 2014 Recap: Week 3 – Most Memorable Year (VIDEO)
|
March 31, 2014 at 7:00 PM EDT
Tonight will be one of the more emotional nights on Dancing with the Stars 2014 and not because another couple will be eliminated on DWTS 2014, but because the couples on Dancing with the Stars Season 18 will take on routines to showcase the most memorable year of their life! Yeah, we definitely will need a box of Kleenex handy for this one! Watch it with us during our Dancing with the Stars 2014 Recap and see who got eliminated on Dancing with the Stars 2014 tonight!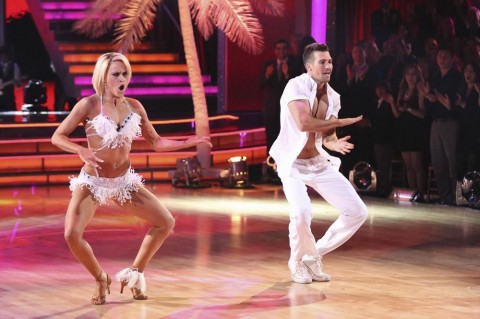 Last week on Dancing with the Stars Season 18, the couples had their second week of dancing to look forward to. This was also the first week of eliminations on DWTS 2014 and Tom Bergeron and Erin Andrews shocked the couples at the beginning of the show and announced that two couples would be heading home! Why the double elimination so early on??? Maybe they thought Billy Dee Williams would be one of the stars going home, so they wanted to make sure it happened? Well, it didn't and I am not surprised at all!
[PHOTOS: Click here to check out Season 18 couples!]
The couples get to take on routines that highlight the most memorable year of their life tonight on DWTS 2014, so bring on the Kleenex during our recap starting soon, but check out our predictions for tonight in the meantime.
WARNING: DANCING WITH THE STARS 2014 SPOILERS AHEAD!
The following post contains videos from tonight's performances on DWTS 2014 Week 3. Don't want to know who went home on Dancing with the Stars Season 18 tonight? Then don't look ahead!!!
*****************************************************************
[Please refresh this page frequently for the latest updates in our Dancing with the Stars 2014 recap]
Here we go…we get to see Robin Roberts join the judges' table and here we go!
Team: James Maslow and Peta Murgatroyd
Dance: Jive
James was a chubby kid and was getting picked on, so it was nice getting the Sexy Hall of Fame compliment from Carrie Ann last week. He was bullied in schools and switched schools, but 2007 was when he came into his element and his life changed. This was such a great routine and so fun. Such energy and he kept up with her the whole time. He is starting to become a force to be reckoned with!
9.0 – Bruno said that had explosive energy and cannot believe what he has achieved in three weeks.
9.0 – Robin said the way he attacks every single dance. She appreciates it and the story.
9.0 – Len said full-on, flat out and fantastic and his best dance no question.
9.0 – Carrie Ann said he continues to surprise her and it was wonderful.
Score: 36/40
We find out that Billy Dee Williams has hurt his back and the doctor ordered him to dance no more, so him and Emma Slater are out of the competition! The scores tonight will be combined with next week's scores for The Switch Up!
Team: NeNe Leakes and Tony Dovolani
Dance: Rumba
The song NeNe chose for this dance is the song she walked down the aisle at her second wedding. She has married the same guy twice and the first marriage was not good for either of them. In 2013, they figured it out and got married for the second time. This was a really good dance and NeNe has some moves in her. Again, I am liking her this season and am impressed!
8.0 – Bruno said the rumba is difficult to maintain the flow of music and she did that well, but watch the basics.
8.0 – Robin said she is the life of the party and she has this enormous personality, but she showed a different side of her tonight.
7.0 – Len said it had a sensuality about it and he enjoyed watching it and it was very tasteful.
8.0 – Carrie Ann said the passion brought out a sensuality and her arms were gorgeous and beautiful job.
Score: 31/40
Team: Cody Simpson and Witney Carson
Dance: Jazz
He said 2010 was the year he moved to the United States and signed his music contract. This was a huge step for him and a huge risk. His family gave up their entire life for his dreams. Very good dance and danced very well, but was it even jazz? It looked more like hip-hop to me!
9.0 – Bruno said so refreshing and so right her and so right now and jazz for now and for him.
9.0 – Robin said she loves his style and he is respectful of the dance, but he makes it his own.
8.0 – Len said this is right up his alley and it was tight and together and well done.
9.0 – Carrie Ann said that was ridiculous and so good.
Score: 35/40
Team: Danica McKellar and Val Chmerkovskiy
Dance: Contemporary
For her, the most memorable year was 2010. That was the year her son was born, but a few weeks before that her grandmother passed away. She said becoming a mother has brought her closer to her grandmother. This is the perfect week on Dancing with the Stars 2014 to dance a contemporary piece and they did it very well. It shows the emotion of the song and she danced the hell out of it!
9.0 – Bruno said it was enchanting driven by emotion and everything she did had such an intent.
9.0 – Robin said she is a wonder and sheer delight and it was beautiful.
9.0 – Len said the movement was so fluid.
9.0 – Carrie Ann said that was the most beautiful, sincere and delicate performance.
Score: 36/40
Team: Drew Carey and Cheryl Burke
Dance: Waltz
For him, the most memorable year was 2005 and his son was born. It was a year his life shifted. He was diabetic and overweight and had a heart attack! His dad died when he was eight years old and didn't want his son to go through with that…and bring on my tears! Drew is a weird one for me. He has some good dance moments and looks good, but then awkward at other moments.
8.0 – Bruno said loved that he played it straight and plenty of content and appreciates the work he put into it.
8.0 – Robin said he has been a pleasant, modest, beautiful surprise this season and he has blown her away with how he has approached this.
7.0 – Len said it was a charming dance and liked his posture, but he did get on the wrong foot and got muddled for a while.
7.0 – Carrie Ann said she could tell how much this dance meant to him.
Score: 30/40
Team: Meryl Davis and Maks Chmerkovskiy
Dance: Foxtrot
Meryl and Charlie started dancing when they were 8 years old. It was a long journey, but of course 2014 was her most memorable year and winning the Olympic gold and wants to dedicate this to everyone that made winning that medal possible. God, she is such a good dancer! I never watched the Olympics, so I am not aware of her story, but this girl is amazing. They did so good together and an awesome performance.
10.0 – Bruno said technically it was incredible and the choreography was extraordinaire.
10.0 – Robin said it was beautiful to watch.
9.0 – Len said he loved it. Sweet and delicious and well done.
10.0 – Carrie Ann said she burst into tears in the middle of that because it was so beautiful and she is phenomenal.
Score: 39/40
Team: Amy Purdy and Derek Hough
Dance: Contemporary
Her most memorable year was 1999 when she lost both her legs and her kidney malfunctioned. Her dad gave her one of his kidneys, so she said that her Dad gave her life twice. The choreography of this dance shows the journey of what she went through: her falling and her Dad catching her. I will admit that I had tears that whole time. Amy is so inspiring and what she does each week and in life is amazing. That had so much emotion and they nailed it!
9.0 – Bruno said one thing he can guarantee is that there will not be a dry eye in the country.
9.0 – Robin said she hopes she knows what Amy is doing each week when she dances.
9.0 – Len said it touched his brain with the level of difficulty and touched his heart.
9.0 – Carrie Ann said she reminds us all of what it means to be human and it is so inspiring.
Score: 36/40
Team: Charlie White and Sharna Burgess
Dance: Jive
2010 was a huge year for him. They won the silver medal and were so close to winning the gold. The journey since then and capping it with the gold medal is shown in this dance on Dancing with the Stars 2014! Love "Happy" and that song choice and they were so good. Charlie had so much energy and had such good dance movies. This routine just made you smile and want to be happy!
9.0 – Bruno said work it because he can and he is so light on his feet.
9.0 – Robin said it was a celebration and he makes us so happy.
9.0 – Len said he was steaming and he was dreaming and it was happy hour and he loved it.
9.0 – Carrie Ann said that was fantastic and loved the way he worked the room, but he was a little off the music twice.
Score: 36/40
Team: Candace Cameron Bure and Mark Ballas
Dance: Jive
She is choosing 1995, which was the year Full House ended and two months later she got engaged. She transitioned from child to woman. She said Kimmie and DJ are still best friends! She is doing this dance as a tribute to Full House. I think Candace did so well the first week that I consider her this great dancer, but she has no dancing background and did very well on this one! She had some good moves in there and I was impressed and it was fun.
8.0 – Bruno said she can let it loose and loves it when she goes wild.
8.0 – Robin said she was snazzy and wonderful to watch.
8.0 – Len said he loved the energy and it was sharp and clean and it was a proper ballroom jive.
8.0 – Carrie Ann said it was a great jive and high energy, but pull her shoulders back.
Score: 32/40
Since Billy Dee and Emma had to eliminate themselves tonight, there are no other eliminations. The scores from tonight will be added to the scores from The Switch Up next week on Dancing with the Stars 2014!
Who was your favorite couple of the night?
Join us tonight on Reality Rewind for our Dancing with the Stars 2014 Recap. Let's watch together and see who got voted off Dancing with the Stars Season 18 tonight! Subscribe to our Email and RSS or like us on Facebook and follow us on Twitter for all our latest updates.
SHARE YOUR THOUGHTS! LEAVE A COMMENT NOW:
Commenting Rules:
Keep the conversation civil and on topic. If your comment does not add to the conversation or is insulting to others, it will be removed. Debate intelligently. No ALL-CAPS.