Dancing with the Stars 2013 Results Live Recap: Week 8 Elimination
|
May 7, 2013 at 8:00 PM EDT
We are only two weeks away from finding out who wins Dancing with the Stars Season 16, but we get too far ahead of ourselves we must first find out who was voted off Dancing with the Stars 2013 tonight and the results will be announced shortly. Six couples remain, but we will be down to the final five after tonight's DWTS 2013 results. Who is safe and who is eliminated on DWTS Season 16? Find out in our Dancing with the Stars 2013 Results Live Recap for Week 8 starting soon!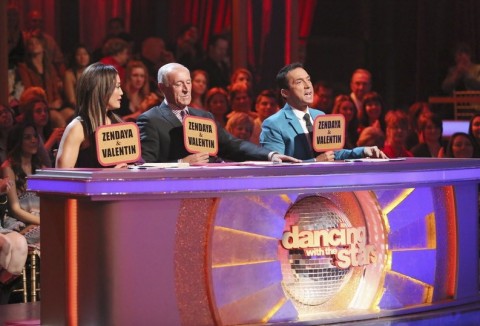 So, who do you think will be sent home tonight? We made our predictions earlier today and it seems pretty obvious to us after the performances last night, but when America and their voting gets involved you just never know!

Will Len Goodman be a little more calm tonight or will he still be worked up over the Paso Doble trio between Kellie Pickler, Derek Hough and Tristan McManus? Maybe the DWTS judges will have that performance as their encore dance for the night? Doubtful, but it could happen! Get the results with us tonight in our Live Recap starting soon. It will be a nail biter, especially as we get closer and closer to the finale on Dancing with the Stars 2013!
WARNING: DANCING WITH THE STARS 2013 SPOILERS AHEAD!
Don't want to know what happened on the Dancing with the Stars 2013 Results Live Recap? Then don't read ahead or you will find out who went home on Dancing with the Stars Season 16 tonight!!!
********************************************************************
Here we go everyone…can anyone believe that it is the semifinals next week??? The pros kick things off tonight doing a fun routine, of course. Now a quick look at some of the highlights from the performances last night on DWTS 2013. Who was your favorite couple of the night?
Some results in already and the first couple going to the semifinals is Ingo Rademacher and Kym Johnson. The first couple in jeopardy tonight is Kellie Pickler and Derek Hough! WHAT???? How is that even possible????
In no big shocker, the encore dance tonight will be the trio performance from Zendaya Colemna, Val Chmerkovskiy and Gleb Savchenko, which scored the first perfect score of DWTS Season 16! I did enjoy this routine last night and again tonight!
Now it will be a look at Zendaya and Val's performances from last night and a look back at Jacoby Jones and Karina Smirnoff. This does not look good for Jacoby and Karina, right? Zendaya and Val are safe tonight, but no shocker there! Jacoby and Karina are in jeopardy! Why do people not like him and Karina???
They talk to Kellie and Derek about the controversy last night and how can you not love her??? Vote for her America!!!
The first guest performance of the night is Jason Derulo, who was almost paralyzed in an injury last year and is now out there singing and dancing while on his head? Get it Jason! I get it that he is dancing his butt off, but why have the microphone there? He clearly is not singing his new single "The Other Side", right?
The fans were able to vote on Twitter last night to see what dances the couples will be dancing next week. The dance styles are Flamenco for Kellie and Derek, Charleston for Ingo and Kym, Hip Hop for Zendaya and Val, Disco for Sean Lowe and Peta Murgatroyd, Afro Jazz for Aly Raisman and Mark Ballas and Lindy Hop for Jacoby and Karina. Like the choices?
Ingo's son, Peanut Rademacher, has made a name for himself with all the stars and judges on DWTS Season 16 and now they gave him a camera and it was adorable. Such a cutie!!!
Time for the Macy's Stars of Dance, which will be a gravity-defying dance from Derek Hough and Jaimie Goodwin. They work it out in a box and it appears they are dancing on the ceiling! Lionel Richie would be so proud! It's kind of cool to see.
One more performance on DWTS 2013 before we get the final results, as Emeli Sande hits the stage to sing her huge hit "Next To Me". Sometimes I don't even know who sings the songs that I enjoy. I love this song and didn't know it was her who sang it!
Now time for some more results, as we take a look at the final two couples: Sean & Peta and Aly & Mark. The next couple safe tonight is Aly and Mark! That means that Sean and Peta are in jeopardy tonight and they better be going home or I will be upset!!! Who do you think will be going home???
The first couple safe from the bottom three are Kellie and Derek…thank you jesus! The couple with the lowest number of votes and eliminated on Dancing with the Stars 2013 are Sean and Peta! Jacoby and Karina are safe!!! Are you happy?
Join us tonight on Reality Rewind for our Dancing with the Stars 2013 Results Live Recap. Let'e watch together and see who was eliminated on Dancing with the Stars Season 16 tonight! Subscribe to our Email and RSS or like us on Facebook and follow us on Twitter for all our latest updates.
SHARE YOUR THOUGHTS! LEAVE A COMMENT NOW:
Commenting Rules:
Keep the conversation civil and on topic. If your comment does not add to the conversation or is insulting to others, it will be removed. Debate intelligently. No ALL-CAPS.