Dancing with the Stars 2013 Recap: Week 8 Performances – Trios (VIDEO)
|
May 6, 2013 at 7:00 PM EDT
We have a few more weeks left on Dancing with the Stars 2013 and with only six couples remaining on DWTS 2013, things are about to twice as hard tonight, as the couples will be taking on two routines! Not only will the couples be dancing their own normal routine, but they will also be joined by a dancing professional for a trio performance on DWTS Season 16 tonight! Watch it all go down during our Dancing with the Stars 2013 Recap tonight!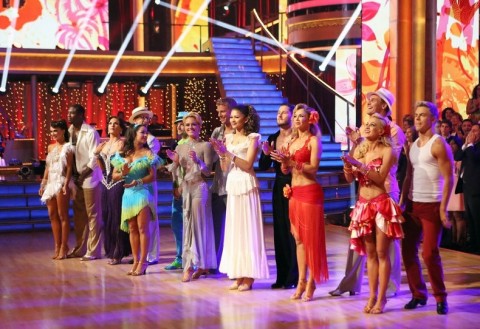 The dance styles have already been announced in our DWTS 2013 spoilers earlier today, so now we just get to sit back and watch the jam-packed night of performances on Dancing with the Stars Season 16 from all the couples. We will have guest performers for the trio performances, as Gleb Savchenko, Lindsay Arnold, Henry Byalikov, Sharna Burgess, Cheryl Burke and Tristan McManus return to the DWTS dance floor to perform tonight.

We've had some clear front runners this season on DWTS 2013, but can they continue their run tonight or will one of the more "middle couples" rise to the top? Ingo Rademacher and Sean Lowe could both be in danger of leaving this week, unless they pull out some big performances or maybe the DWTS judges will be a little nicer to them this week? Watch it all in our recap starting soon and watch the performance videos included!
WARNING: DANCING WITH THE STARS 2013 SPOILERS AHEAD!
The following post contains videos from tonight's performances on DWTS 2013 Week 8. Don't want to see them yet then don't look ahead!!!
************************************************************************
Here we go…
Team: Zendaya Coleman and Val Chmerkovskiy
Dance: Foxtrot
Val is trying to ignite Zendaya's competitive spirit, but she keeps making him laugh and keeping him off his game. This was a great routine, of course, from Zendaya and Val. She has great lines and this is a good dance from them.
9.0 – Bruno said pure, graceful, light and she is like a breath of fresh air.
10.0 – Len said that was a pretty dance and the longer this competition goes one and the stronger she gets.
9.0 – Carrie Ann said the beginning was a little simple for them, but she went into hold she took her breath away.
Score: 28.0/30.0
Team: Sean Lowe and Peta Murgatroyd
Dance: Tango
Peta said Sean has to show his aggression for the tango and no room for errors this week. He knows the competition is strong and he can't have a mediocre dance. The thing with Sean is you know he is really trying with these dances, but he seems to be all in his ehad when he performs and it bothers me. Anyone else?
7.0 – Bruno said he started extremely well, but his feet don't seem to be in the right place at the right time.
7.0 – Len said it had plenty of punch and it had power, but he lost the fluidity during the dance and it was a little bit ugly.
7.0 – Carrie Ann said he is back to this inconsistency this week and he needs to focus on the trio.
Score: 21.0/30.0
Team: Jacoby Jones and Karina Smirnoff
Dance: Viennese Waltz
Jacoby's mom was not happy with Len last week, so how will she be feeling this week? Jacoby knows that Len watches the waltz big time, so he is worried. I love me some Jacoby and I think this is a great routine. He had the sex appeal of a waltz  and it was intense and done very well. Vote for Jacoby!!!
9.0 – Bruno said the dance requires so much control and he liked it.
9.0 – Len said he loved it and great footwork!
9.0 – Carrie Ann said that was absolutely stunning and it was a nice surprise to see the beautiful posture and elegance and grace.
Score: 27.0/30.0
Team: Ingo Rademacher and Kym Johnson
Dance: Foxtrot
They were in the bottom two last week on Dancing with the Stars 2013 and that seems to have been affecting Ingo during rehearsals and he was getting frustrated and not wanting to dance anymore. This was a good routine, but he seemed to have checked out of this performance as well. Is he so worried about going home this week?
8.0 – Bruno said he did a great job, but he was a little Fred Flintstone at times.
8.0 – Len said it had a lovely, gliding feel to it and an ease to it, but he could have been a little softer in the arms.
8.0 – Carrie Ann said it was his best posture as a whole and he reminded her of Gene Kelly.
Score: 24.0/30.0
Team: Kellie Pickler and Derek Hough
Dance: Viennese Waltz
Carrie Ann said last week that she wanted to see more emotion with her dance to the song. Derek is trying to pull that out of Kellie this week and asks her who she would want to dance with if she could and it would be her grandma, so will we get some tears from her tonight? Kellie is such a strong dancer and she could win this all this season. This was a perfect dance and I think worthy of a 30!
10.0 – Bruno said she was a queen tonight and wonderful technique and a thing of beauty.
9.0 – Len said it was sophisticated and lovely lyrical movement to it and lovely dance.
9.0 – Carrie Ann said she went beyond the steps tonight and this was the key to unlocking her as a winner.
Score: 28.0/30.0
Team: Aly Raisman and Mark Ballas
Dance: Argentine Tango
Aly has not had a dramatic dance yet this season, so Mark is excited about this one. He said she is a sweet girl, but now she has to play a harlot and the rehearsals are funny to watch. This was a good routine from the couple, but it seemed to move slower at parts and I was not a huge fan of that. She impressed me last week, but lost some points this week in my book.
10.0 – Bruno said he had no idea she could be so good at being bad.
10.0 – Len said it had mood and atmosphere and it was smooth and seductive.
9.0 – Carrie Ann said the transformation she has seen in her is amazing.
Score: 29.0/30.0
Team: Zendaya and Val with Gleb Savchenko
Dance: Salsa
They seem to be working well together and Zendaya thinks that make a good team. I do not think the high scores were that well-earned after her first performance, but seeing this routine and I would give them a 10! This was awesome and had so much energy and I loved it. She worked it out and they were a great trio!
10.0 – Bruno said all the attention was drawn to her and dazzling and amazing.
10.0 – Len said the three of them worked together great and Zendaya was the star.
10.0 – Carrie Ann said hot, hot, hot. She is the queen of the salsa and she loved the choreography.
Score: 30.0/30.0 and total of 58/60 (the first perfect 30 of the season)!!!
Team: Sean and Peta with Sharna Burgess
Dance: Jazz
Sean thinks he is too much man for Peta, so it is a good thing Sharna is being brought in to dance with them! Not going to lie, but he seems to be having more fun in this performance and I like that. He loosened up some, but that may have led to him losing some steps in the middle.
7.0 – Bruno said plenty fo magic with a little bit of tragic and he wishes he didn't watch his feet.
7.0 – Len said attack came in and style went out.
7.0 – Carrie Ann said it's tough to keep up with these two and he got out of sync a few too many times.
Score: 21.0/30.0 and a total of 42/60
Team: Jacoby and Karina with Cheryl Burke
Dance: Paso Doble
He likes working with both the ladies, but he has the same dances as Kellie and Derek tonight, so he knows he has to man up. This was a great routine and he was strong and fierce and the fire behind them helped. I think he did an excellent job and they had some tricks up their sleeves and I loved it. Again, vote Jacoby!!!
8.0 – Bruno said raw, powerful and untamed, but he has to work on the Spanish lines.
9.0 – Len said he came out with fantastic presence and he became a contender tonight.
8.0 – Carrie Ann said he has such an impressive presence on the floor, but he was tossing things on the floor, including Cheryl.
Score: 25.0/30.0 for a total of 52/60
Team: Ingo and Kym with Lindsay Arnold
Dance: Jive
He can do a handspring and wants to work it into the dance, but Kym is not too sure about it. I think this one was too silly for me. It was supposed to be cute, but I think they were trying too hard and it showed off too much of his lower skills. I think he could be hurting tomorrow in the results if it weren't for Sean Lowe.
8.0 – Bruno said his energy was great, but his kicks have to sharper and tighter.
8.0 – Len said it could have been a little bit sharper in the feet, but the jive is about being fun.
8.0 – Carrie Ann said it was a little light-footed, but he had heart and fun.
Score: 24.0/30.0 and a total of 48/60
Team: Kellie and Derek with Tristan McManus
Dance: Paso Doble
Derek wanted to give the angelic dance in their first performance and now want to go to the devilish side with this trio performance on DWTS 2013. I loved it. They started where their first dance ended it and gave it a whole new twist. This was intense, well-danced and well thought up by Derek. So impressive and I want a 30 from the judges!!!
10.0 – Bruno said that was masterpiece theater and it had high art and high drama and he wanted to be a part of it.
7.0 – Len said he didn't want to see flashing lights and he wanted to see paso doble in it and he is super angry and the judges get it into and Len swears and it gets ugly. This is the Len we know who hates all Derek's routines, right???
10.0 – Carrie Ann said she gives Kellie a hug and said she is so proud of her and that was it.
Score: 27.0/30.0 and a total of 55/60
Team: Aly and Mark with Henry Byalikov
Dance: Jive
Aly worked with Henry last week because of Mark's hurt back, so they have some chemistry already. They make fun Aly because she can't count to eight on the music. This is the Aly that I fell in love with last week! This was fun and entertaining and they were fun to watch. Did Len settle down over the commercial break???
9.0 – Bruno said she has grown so much as a performer and she is able now to play characters.
9.0 – Len said she went for it really strong and a great combination and well done.
9.0 – Carrie Ann said she brought out this new character and she is truly confident in her dancing.
Score: 27.0/30.0 and a total of 56/60
That's it for tonight on DWTS Season 16. Favorite couple? Did Len Goodman go too far with the Kellie, Derek and Tristan trio???
Join us tonight on Reality Rewind for our Dancing with the Stars 2013 Recap. Let'e see how the Dancing with the Stars Season 16 cast does with their performances! Subscribe to our Email and RSS or like us on Facebook and follow us on Twitter for all our latest updates.
SHARE YOUR THOUGHTS! LEAVE A COMMENT NOW:
Commenting Rules:
Keep the conversation civil and on topic. If your comment does not add to the conversation or is insulting to others, it will be removed. Debate intelligently. No ALL-CAPS.