Dance Moms Disgusting, Controversial Showgirls Episode Officially Pulled By Lifetime
|
March 24, 2012 at 7:40 PM EDT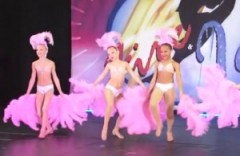 Dance Moms disgusting, controversial showgirls episode officially pulled by Lifetime. Lifetime has pulled a highly controversial episode of its series "Dance Moms," featuring little girls appearing as Vegas showgirls, a spokesperson confirmed to Gossip Cop. Abby Lee Miller was seen instructing the girls how to shake their bodies.
As previously reported, the episode also features the show's children wearing flesh-colored bras and performing a risque "showgirls" routine. The episode, which drew outcries from viewers and critics alike, has since been pulled from Lifetime's schedule, and all evidence of it appears to have been erased from the network's official site.Dancing With The Stars pro dancers Derek Hough and Mark Ballas had bother spoken up about the "child abuse" that occurs on that show, so it's nice to see that they want to avoid having accusations of exploitation.
SHARE YOUR THOUGHTS! LEAVE A COMMENT NOW:
Commenting Rules:
Keep the conversation civil and on topic. If your comment does not add to the conversation or is insulting to others, it will be removed. Debate intelligently. No ALL-CAPS.