Subscribe to Reality Rewind:
June 29, 2012
Channing Tatum Dances in Drag On Late Night With Jimmy Fallon, Watch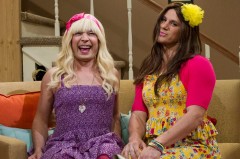 Channing Tatum dances in drag on Late Night With Jimmy Fallon, watch below . Channing Tatum joined Jimmy Fallon on Thursday's Late Night for a Nickelodeon parody called "Ew," where teenage Sara (Fallon) invites girlfriends over to discuss the latest in pop culture. Tatum, wearing full drag as "Susie," gossips with "Sara" about One Direction, Dustin Hoffman and Magic Mike.
He also shows off some sexy dance moves — albeit very different from the ones he exhibits in Magic Mike. It's hilarious to say the least, and definitely worth the watch. Tatum's film pulled in an impressive $2 million from its midnight openers Thursday. It is projected to clear $30 million this weekend.The 21 Jump Street actor switched the Speedo for a dress and wig, going drag in a recurring Fallon sketch called "Ew!" about teenage girls who think everything is gross, mostly related to pop culture.