Cee Lo Green Flips Middle Finger At Obama Event While Singing F**k You, Video
|
March 18, 2012 at 2:38 PM EDT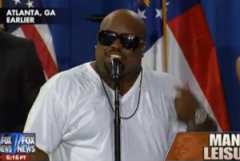 Cee Lo Green flips middle finger at Obama event while singing F**k You, video below. The Voice judge performed a partially uncensored "F*ck You" and gave the middle finger at a fundraiser for President Obama in Atlanta on Friday.
In the clip, Green is seen asking, "Can I cuss?" before doing just that, using the original "F*ck You" expletives rather than the sanitized "Forget You" version. The Fox News commentators criticize Green for swearing at an event in front of the President and donors.
SHARE YOUR THOUGHTS! LEAVE A COMMENT NOW:
Commenting Rules:
Keep the conversation civil and on topic. If your comment does not add to the conversation or is insulting to others, it will be removed. Debate intelligently. No ALL-CAPS.