Biggest Loser 2013 Recap: Season 14 Finale – The Winner Is..
|
March 18, 2013 at 7:00 PM EDT
We started out with 15 contestants on The Biggest Loser 2013 and after weeks of training and getting their butts kicked by The Biggest Loser trainers (Jillian Michaels, Bob Harper and Dolvett Quince) it is time to find out who wins The Biggest Loser Season 14! The tension is going to be high, as we have to sit through two hours of filler time before the final results are revealed and we get to see who the winner of The Biggest Loser 2013 is! Find out with us during our The Biggest Loser 2013 Recap and see who wins The Biggest Loser Season 14!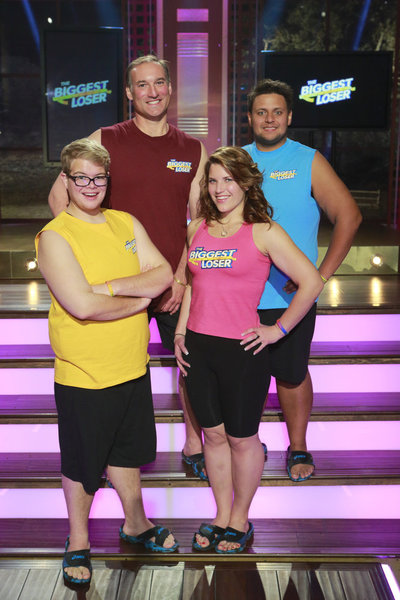 Last week on The Biggest Loser 2013, we saw the final five contestants spend their last week on the ranch and as the pressure was huge, the contestants seem to crack under it and we saw Joe, Jackson and Gina all bring in very low numbers, but of course Danni and Jeff had huge weeks (they both lost 11 pounds) and secure a spot in the Biggest Loser 2013 Finale for both of them! Gina was eliminated and Joe and Jackson's fate rests in the hands of America, who were given a chance to vote for their favorite last week.

The winner of the vote will be announced tonight on The Biggest Loser Season 14 and either Joe or Jackson will participate in the final weigh-in during the live finale. The other contestant will still be eligible to compete for the at-home prize of $100,000 though! It will be an intense and emotional two hours, so come watch it with us during our Biggest Loser 2013 Finale Recap!
Here we go….Alison Sweeney gets things started tonight as we are live and take a look back at the contestants journeys through the season! The trainers join Alison on the stage and they share their words of wisdom and why Jillian came back.
Time to get to some results, as Alison is about to reveal the results of the vote by America and Jackson and Joe come out and Jackson has lost a ton of weight! Joe looks really great as well, but he looked good last week! Of course, the results will be announced after the commercial break!
The votes have been tallied and America chose Jackson, so he will move on to compete against Jeff and Danni for the $250,000 prize! Joe can still win the $100,000 at-home prize winner though.
Time to look at our first child contestant, as we look at Lindsay's journey and then she comes out and does a cheer with the cheerleading team and she looks good and of course I am crying!
We know get to meet the first three of 11 eliminated contestants: Pam, Nate and Alex. Nate's family was motivated with him and his Mom has lost 70 pounds!
Pam is the first one on the scale tonight and she lost 71 pounds and a total of 29.96%! The winner of the at-home prize will be the person with the highest weight loss percentage, so pounds don't matter. Nate lost 99 pounds and 27.58%, so Pam stays in the lead. Alex is down 84 pounds and 35% total and is the new leader.
The next four come out: Francelina, TC, Michael and Kate. They all look good and this is why I love The Biggest Loser! 
Next up on the scale on Biggest Loser 2013 is Francelina and she lost 95 pounds and 35.58%, so she is the new leader! TC, who only had one week on the ranch, is next and he lost 110 pounds and 29.26% and that is awesome for being the first one eliminated! Michael is next and he lost 136 pounds and 30.68% and Francelina still in the lead. Up next is Kate and she is down 64 pounds and 27% and Francie is still in the lead.
The last four contestants come out and they are Lisa, David, Gina and Joe. Lisa looks amazing and might be fighting Francelina for that prize.
Lisa is first and she lost 108 pounds and 43.09%, which is amazing!!! She is now the new leader and looks amazing. David is next and lost 102 pounds and 33.22%, so Lisa holds the lead. Gina is next and lost 113 pounds and 46.12% and she is the new leader. The last one to weigh in is Joe, who has lost 147 pounds and 40.38%, so Gina wins the $100,000 at-home prize!!! What do you think of that? Joe has some major muscle though and that could weigh more.
The trainers then talk to some fans out in the audience who joined The Biggest Loser: Challenge America and have lost some major weight and good for them!
Up next is Biingo, another one of the child contestants on Biggest Loser 2013. He comes out and he looks good and he has lost 43 pounds and grown two inches! His family has lost over 200 pounds total together! We all know Biingo loves baseball and he tried out for a baseball team recently and finds out he made the team on the show!
We have all been waiting for this and it is time to meet the finalists on Biggest Loser 2013: Jackson, Jeff and Danni! Jackson comes out first, but we have seen him…bring out Jeff and Danni! Jeff comes out next and he has done an awesome job and he is going to be a strong contender tonight! Here comes Danni and she looks completely different! She looks like a damn supermodel and her hair and muscles and I am in shock. I think she has this wrapped up. What do you think?
We get to look at the final child contestant of the season, which is Sunny and she is down 51 pounds and down five dress sizes! She does look real good and good for her!
The finalists face the scale after this commercial on Biggest Loser Season 14! We are back to see who wins Biggest Loser 2013! Jackson is first and he lost 138 pounds and 42.07%! Jeff is next and he lost 181 pounds and 46.65%! Jeff is the leader and it is down to him and Danni now and I don't know if she can pass that amount. Do you think she can? Danni gets on the scale and she need to lose more than 120 pounds and she is down 121 pounds and is the winner of Biggest Loser 2013!!!! I think she is so hot and way to go Danni!!!
To make it more clear for people: Danni is the winner of Biggest Loser Season 14!
Join us tonight on Reality Rewind for our The Biggest Loser 2013 Recap. Let's find out together who was eliminated on The Biggest Loser Season 14! Subscribe to our Email and RSS or like us on Facebook and follow us on Twitter for all our latest updates.
SHARE YOUR THOUGHTS! LEAVE A COMMENT NOW:
Commenting Rules:
Keep the conversation civil and on topic. If your comment does not add to the conversation or is insulting to others, it will be removed. Debate intelligently. No ALL-CAPS.