Big Brother 2013 Spoilers Live Recap: Episode 29 – HoH Winner
|
September 1, 2013 at 7:00 PM EDT
The time has come and our patience will no longer be tested, as the ending of the Head of Household competition on Big Brother 2013 will be shown on CBS tonight and we don't have to wonder any longer! They always seem to leave us with unanswered questions on Big Brother 15 and it is Sunday night, so that means HoH winner announced and then the Nomination Ceremony to see who is on the block for Week 10 on Big Brother 2013. We will give you all those answers tonight during our Big Brother 2013 Spoilers Live Recap and see who won HoH on Big Brother 2013 tonight with us!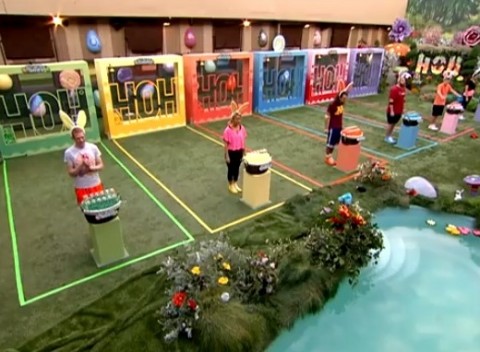 It was the big episode last time on Big Brother 15, as the HGs went in front of Big Brother host Julie Chen and cast their votes for eviction. It was a "battle" between Andy and Aaryn, but it turned out to be another unanimous vote and Aaryn was evicted from the Big Brother 2013 house and headed over to the jury house.
Subscribe to the BB15 Live Feeds and save 30% over last year!!!
From there, the HoH competition got started and the HGs were hopping along just fine. They had to move 12 eggs along some wire fencing that spelled HoH. GinaMarie and Andy were tied with two eggs when things caught off. Watch the ending with us tonight in our Live Recap starting soon!
WARNING: BIG BROTHER 2013 SPOILERS AHEAD!
Don't want to know what happened on our Big Brother 2013 Spoilers Live Recap or who was nominated for eviction on Big Brother 2013 tonight by the HoH? Then don't read ahead!
*********************************************************************
Here we go…the HoH competition is starting again and everyone is not sure about this competition and they all know this winner is going to be huge. These HGs are struggling with the eggs and breaking them.
GinaMarie has this thing down real good and finishes her 12th egg and she wins Head of Household for Week 10! Judd and Spencer finish in last place, so they will be wearing chicken costume for 48 hours. Elissa and Amanda begin their fight to get GM to keep them off the block.
Amanda has no clue they are the target and she is determined to get Elissa on the board. Will The Exterminators stay strong though?
Judd and Spencer get their chicken costume and Judd asks if we want beer-battered chicken! Then Amanda talks with GM and she said that Elissa will go on the block and maybe Judd, but then tells the camera that Amanda is crazy when Amanda walks out of the room. I like GM at this time!
GM gets her HoH room and the fighting starts again with Amanda and Elissa. Elissa is being over-the-top about things for GM, but it is to test Amanda's buttons and it works. Amanda continues it downstairs and said that Elissa is laughing alone and will be on the block tomorrow night. She has no one in the house and she is being quite harsh. The funny thing: all this talk means nothing because GM is targeting McCranda, so it makes it funny for us to watch!
McCranda then discuss Amanda playing the victim around GM and making Elissa look bad, but the torturing Amanda did to Elissa last week is ruining any chance of that. Everyone saw it and is not buying anything she is doing, especially the tears! I am liking GM as HoH right now on Big Brother 2013!
Luxury Competition and the HGs have to get a 1, 0 and K chip. They are all struggling and Spencer finds them pretty fast and $10,000 is his!
Now GM is holding her one-on-one meetings and Amanda keeps interrupting the one with Judd. She then gets her time with GM and puts up an alliance with her, McCrae and Andy and put up Elissa and Judd. GM plays with her and is going along with it, but she is playing them. The HGs are so excited to see the shock on McCranda's face when they go on the block!
Nomination Ceremony Time on Big Brother 2013: Andy is safe. Spencer is safe. Elissa is safe. Judd is safe! McCrae has no expression  and Amanda looks like she is going to freak out. She struggles with saying dynamic and I still love her. She tells McCrae that he lost focus because of Amanda and wants him to get that fire back. She goes on to say Amanda is crazy, but that is why she loves her and the veto is up for grabs. We then get tears from both!
So, what do you think of GinaMarie's nominations this week on Big Brother 15?
Join us tonight on Reality Rewind for our Big Brother 2013 Spoilers Live Recap. Let's watch together and see who got nominated by the HoH on Big Brother 2013 tonight! Get all the scoop from our partner site Big Big Brother. Subscribe to our Email and RSS or like us on Facebook and follow us on Twitter for all our latest updates.
SHARE YOUR THOUGHTS! LEAVE A COMMENT NOW:
Commenting Rules:
Keep the conversation civil and on topic. If your comment does not add to the conversation or is insulting to others, it will be removed. Debate intelligently. No ALL-CAPS.