Bachelorette 2014 Spoilers: Week 5 Recap – Awkward Dinner Date?
|
June 16, 2014 at 7:00 PM EDT
The Bacheorette Andi Dorfman and the men on The Bachelorette 2014 are leaving the United States behind and starting their international adventure to find the winner of The Bachelorette Season 10! We will see Andi and the guys head to Marseille, France, tonight on The Bachelorette 2014 and they will be bringing the drama with them! The guys will all be fighting with each other, so watch it with us tonight during our Bachelorette 2014 Spoilers Recap and see who went home on The Bachelorette 2014 tonight!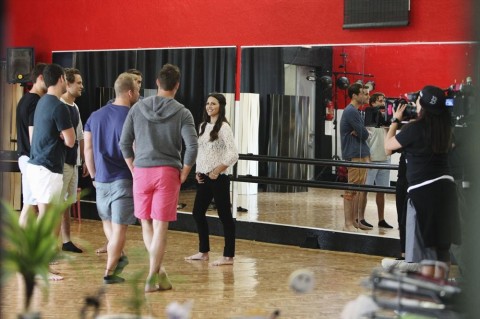 Last time on The Bachelorette Season 10, it was a sad and emotional night. This was the night that Eric Hill was sent home before his tragic accident. We saw Andi talk to him about their relationship and hoe it doesn't seem to be progressing and mentioning that she knows nothing about him really. So, he shares and then at the Cocktail Party a couple days later, he feels she is not opening up to him and confronts him. This turns ugly real quick, which was not needed. I guess you don't question anything Andi does or you are done, as Eric was sent home immediately!
[PHOTOS: Click here for sneak peek look at Week 5 in France!]
The fun begins shortly on The Bachelorette 2014, so follow along with our recap below!
WARNING: THE BACHELORETTE 2014 SPOILERS AHEAD!
Don't want to know what happened tonight on Bachelorette 2014 Spoilers Recap or find out who was eliminated on The Bachelorette Season 10 tonight? Then don't read ahead!
*********************************************************************
[Please refresh this page frequently for the latest updates in our The Bachelorette 2014 recap]
Here we go…Andi and the men arrive in France and it looks gorgeous. The guys get to the hotel and find the date card, which is a one-on-one date for Josh Murray! Chris Harrison sits down with Andi and asks if she is falling in love and she doesn't deny it and says with more than one guy!
ONE-ON-ONE DATE #1 – Andi comes to the hotel to pick up Josh and they are off! They do some walking around Marseilles and holding hands and trying to be cute. They head out on a big sailboat and kissing big time and even Andi is kissing him on his cheek! She said he is the typical athlete that she has dated in the past, but those haven't worked out and now wants to see if something deeper to him.
Back at the hotel, the guys get the next date card and it is for Marcus, Dylan, Chris, Cody, JJ, Marquel, Nick, Patrick and Andrew. The card is blank and they are all trying to figure out what it means and that means that Brian gets the other one-on-one date tonight on The Bachelorette 2014.
Now back to Josh and Andi and they sit on some rocks and chat and their talk is just talk and nothing special going on. She is worried that she has chemistry with him, like she did with Juan Pablo, but wants more and to know if she can get that with him. Back at the hotel, Nick and JJ are chatting with Marquel and tell him that Andrew said at the first Rose Ceremony when Marquel and Ron both got a rose that he whispered to him that both "blackies" got a rose…this should not end well! We then see Marquel thinking it all over and getting emotional because that is the first thing he is judged by and not by who he is as a person.
Back to the date and it is the evening portion of the date, as they head to a castle and get some alone time together. They do some talking and he talks about her judging him as an athlete. One of his exes cheated on him, so he has had it tough to trust girls. He said it is important to say that the next person he says he loves to is going to be the one he marries. She is gushing over him and everything he is saying, so of course he gets the date rose! They then get a private concert from Ben Fields and the evening ends with a bang!
GROUP DATE: Of course, Marquel and Andrew are both on the date and it will blowup later tonight. Andi takes the guys out and they will learn how to mime from a professional mime! They are doing so bad, but will now hit the streets and try and entertain the crowd. They start it up and the crowd is not liking them. They start getting into it more and more and Marquel is working it out and JJ pulls her aside and reenacts their one-on-one date being old people. Meanwhile, Nick is bitter and not having fun and hates being on the group date and Andi notices!
Time for the evening portion of the date and they kick it off and JJ steals her away right away and takes her to a ferris wheel! They get some alone time and get to see the city, so a perfect move by the producers….errr, I mean JJ! Back with the guys and it is time to confront Nick about his arrogance, as Cody and Patrick feel he is smug and they don't like it and then Andi comes back and interrupts them! Chris pulls her aside, but Andi knows something is going on and she wants to know what is going on. Meanwhile, Cody and Nick are still going at it. To be honest, it seems like Cody is angry and Nick is his target, but I see nothing wrong with what Nick is doing, but could have been a better sport about the group date and miming.
Andi talks with Cody and he said that Nick mocks him and made fun of him for being thankful to have this opportunity. Andi likes Nick, so wants to know what is going on on The Bachelorette 2014. Nick does take responsibility and says what Cody said and said he apologized for it. Andi is wondering about Nick and if he is putting on an act for her and only for her. He reads her a poem and then they share their first kiss, so now she is torn and is she oblivious to who he really is! Marcus gets some alone time with her and wins her over again and they kiss and Andi thinks they are past the drama!
But not so much, as Marquel will now confront Andrew about his statement. Andrew thinks it is bullshit and denies ever saying it. Marquel handled it like a man and was classy and I believe Andrew and that he did not say it. For some reason, I don't know why the guys are coming after him. What do you think? Andrew talks with Andi and said it is getting tough being in the competition with the guys coming after him, which makes Andi question things. The group date rose goes to JJ!
ONE-ON-ONE DATE #2 – Andi comes to pickup Brian and she is excited for this date with him. They hit the town and they head to the theater and get their own private screening of a movie, which is about cooking. It foreshadows where this date is going! The movie is down and they head to the market to pick up their ingredients and will be cooking at home! He seems okay with the idea right now, but that will change! They head back to her room and start cooking and it just gets awkward! Brian cannot cook and his nerves are showing and he just shuts down.
They finish cooking and she is surprised how things are going. The food has no flavor and she is worried that there might not be any passion there. They leave the food and decide to go out for a meal together instead! He knows he screwed up, so he talks with her and I just like this guy. He is such a cutie and so nice and he is just shy. The cooking was bad and awkward, but he won her back with this talk and kiss and she gives him the date rose on The Bachelorette season 10!
COCKTAIL PARTY: The men are waiting for it to start, but Andi meets with Chris Harrison and she knows where she stands with everyone and just wants to skip the Cocktail Party tonight and she is ready to send three guys home! Chris Harrison goes out to tell the men that there will be no Cocktail Party and three of them will go home tonight!
ROSE CEREMONY: We know that Josh, JJ and Brian are safe tonight, as they got roses during the dates tonight. The other men getting a rose tonight are:
Marcus
Nick
Chris
Dylan
Cody
With that being said, the three guys eliminated tonight are Marquel, Andrew and Patrick! What do you think of the results on The Bachelorette 2014 tonight?
Join us tonight on Reality Rewind for our Bachelorette 2014 Spoilers Recap. Let's find out together who got eliminated on The Bachelorette Season 10 tonight! Subscribe to our Email and RSS or like us on Facebook and follow us on Twitter for all our latest updates.
SHARE YOUR THOUGHTS! LEAVE A COMMENT NOW:
Commenting Rules:
Keep the conversation civil and on topic. If your comment does not add to the conversation or is insulting to others, it will be removed. Debate intelligently. No ALL-CAPS.