Bachelorette 2013 Spoilers: Nate Hartsock Says Brooks Does Not Win!
|
July 25, 2013 at 11:53 AM EDT
We all saw The Bachelorette 2013 this season where Nate Hartsock, the creepy brother of The Bachelorette Desiree Hartsock, join her in Los Angeles and talk about the remaining guys after the Hometown Dates on The Bachelorette Season 9. He creeped in the hotel lobby as the men arrived for the Rose Ceremony and it was quite bizarre to see. Well, he is making some big claims in our new Bachelorette 2013 spoilers and saying Brooks Forester does not win The Bachelorette 2013!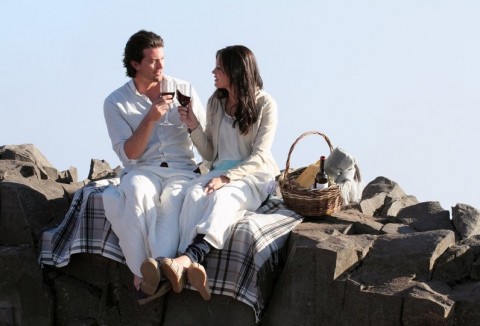 According to Celebrity News & Style, Nate Hartsock claims that Reality Steve is wrong with his spoilers that Brooks Forester wins Season 9. In a direct message with one of his followers, Nate said: "I cannot tell you who wins, but Reality Steve is wrong."

That is a big claim and, of course, Reality Steve made his statement in rebuttal:
"Hmmmmm, so Desiree's brother, a guy who appeared on the show not only to talk to her in LA, but we'll be seeing in Antigua as well, is saying that the spoiler is wrong? Interesting. I'll say this in return: Despite what Nate Hartsock is telling people privately on Twitter, I stand behind my sources. From everything I have seen and gathered over the last 3 months regarding the outcome of this show, I am confident enough to say that Desiree ends up engaged to Brooks, and that's what we'll see come Aug. 5th. How she gets to that point is the mystery that I'm unaware of as of now, but I'm confident enough in saying that is the end result. Nate Hartsock is saying I'm wrong. I guess we'll see once the finale airs."
Now, who to believe? A guy that was there or a guy that gives us spoilers every season that always seem to be correct? I'll say one thing: Reality Steve was wrong about the order that Zak Waddell and Drew Kenney were going home, so could he be wrong with this as well???
Join us on Reality Rewind for all your Bachelorette 2013 spoilers, recaps, previews, predictions, news and much more. Subscribe to our Email and RSS or like us on Facebook and follow us on Twitter for all our latest updates.
SHARE YOUR THOUGHTS! LEAVE A COMMENT NOW:
Commenting Rules:
Keep the conversation civil and on topic. If your comment does not add to the conversation or is insulting to others, it will be removed. Debate intelligently. No ALL-CAPS.