Bachelor Juan Pablo 2014 Spoilers: One Woman Meets His Daughter Tonight?
|
February 17, 2014 at 10:53 AM EDT
It looks like it is about to get real for one of the women on The Bachelor 2014, as The Bachelor Juan Pablo 2014 is about to introduce one of the ladies to his parents and his daughter Camila while in Miami! That is a huge shocker for them and for us, as we have six remaining women on the show and usually meeting his family happens only for the final two! So, which lady gets to meet Camila tonight on The Bachelor 2014? Find out the details in our The Bachelor Juan Pablo 2014 spoilers below!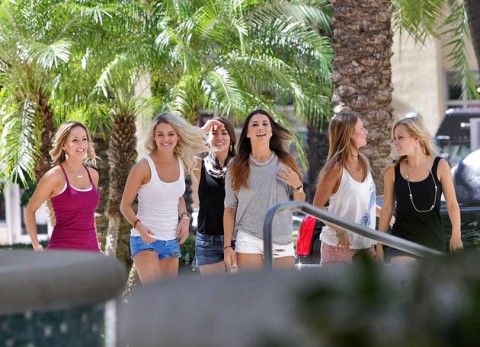 We get to see Juan Pablo and the six remaining women make their way to Miami tonight and Juan Pablo's hometown. He will have two one-on-one dates and then a group date for the other four women. One of those group dates comes with a shocker for the lucky lady! Details from ABC:
"On his second individual date, Juan Pablo takes Nikki to a local florist to pick out some flowers – but they are not for her. Nikki will be the lucky woman to give the bouquet to Camila at her dance recital. The stunned bachelorette arrives at the dance studio and meets the Bachelor's parents and Camila's mom. The pressure really mounts as Juan Pablo introduces Camila to his 'special friend' Nikki. But will Nikki's nerves sabotage the crucial meeting, and what does Camila think of Nikki? Later that night, the couple has a private picnic under the bright lights of Marlin Stadium. Is the date a 'home run' or an 'out?'"
This is huge news for Nikki Ferrell and a big indicator of where the show is heading? Especially since spoilers name her the winner of The Bachelor Season 18!
Join us tonight on Reality Rewind for our The Bachelor Juan Pablo 2014 Spoilers Recap. Let's watch together and see who went home on The Bachelor 2014 tonight! Subscribe to our Email and RSS or like us on Facebook and follow us on Twitter for all our latest updates.
SHARE YOUR THOUGHTS! LEAVE A COMMENT NOW:
Commenting Rules:
Keep the conversation civil and on topic. If your comment does not add to the conversation or is insulting to others, it will be removed. Debate intelligently. No ALL-CAPS.