Subscribe to Reality Rewind:
June 5, 2012
America's Got Talent Eric & Olivia Perform Acoustic "Moves Like Jagger" Cover, Watch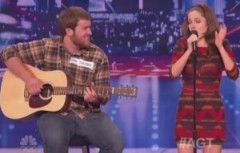 America's Got Talent Eric & Olivia perform acoustic "Moves Like Jagger" cover, watch below. Duo Eric & Olivia shone bright tonight during the Austin, Texas audition portion of America's Got Talent tonight. They performed a slowed-down, acoustic version of the hit Maroon 5 song, which features Christina Aguilera, with Eric playing guitar as Olivia sang. But their rendition left the judges split down the middle.
Howard Stern said the two should not only continue onto the next round in Las Vegas, but also should get together romantically. Perhaps this will spark a romance on the show? Sharon Obsourne compared Olivia to Adele and the late Amy Winehouse, but judge Howie Mandel wasn't sold. "This is not big enough," he told the pair.
Howie complained that Olivia was too much like a lounge singer. He eventually said no. Sharon and Howard, however, completely disagreed and loved Eric and Olivia. They sent them to the next round.

Eric & Olivia, Austin Auditions ~ America's Got…by HumanSlinky