America's Got Talent 2013 Spoilers: Week 3 – Chicago Boyz (VIDEO)
|
August 7, 2013 at 11:36 AM EDT
The third set of 12 acts on America's Got Talent 2013 took the stage at Radio City Music Hall last night and after a boring week last week, these acts brought a better show and a more thrilling night of performances on AGT 2013. One of my favorite auditions on America's Got Talent Season 8 was Chicago Boyz, as they gave a full-energy routine and did some amazing tricks along the way. I was excited to see them perform in New York City for a live audience and for America's votes. Check out their performance last night in our America's Got Talent 2013 spoilers video below!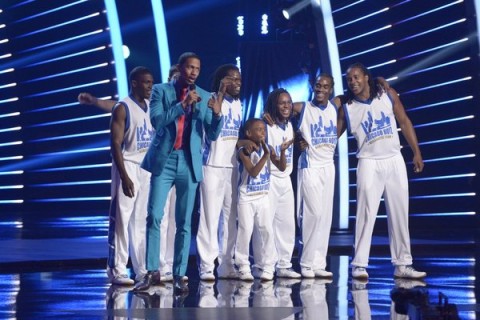 We all love a good story on AGT 2013 and the Chicago Boyz give us that. Most of the guys in the group are from the projects in Chicago. Their coach was born and raised in the same area, so he knows what they are going through. He wants to provide a path for them to grow and better their lives. He provides a safe environment for them and makes sure they are doing the best they can in life and in school.

Besides that, he is teaching them some amazing acrobatic tricks and putting on a show that is high-energy and fun to watch. I was worried about seeing them and where they could go from their audition. This routine did start a little slow for me and I was thinking it was nothing new, but they turned it up in the middle and it ended with a bang, even though it appears one of them injured themselves with one of the final jumps! Check it out here:

Chicago Boyz, Top 60 performs ~ AGT 2013 by HumanSlinky
Do you think the Chicago Boys will move on to the semifinals tonight on America's Got Talent 2013?
Join us tonight on Reality Rewind for our America's Got Talent 2013 Live Recap. Let's watch together and see who went home on AGT 2013 tonight! Subscribe to our Email and RSS or like us on Facebook or follow us on Twitter for all our latest updates.
SHARE YOUR THOUGHTS! LEAVE A COMMENT NOW:
Commenting Rules:
Keep the conversation civil and on topic. If your comment does not add to the conversation or is insulting to others, it will be removed. Debate intelligently. No ALL-CAPS.