American Idol Winner Kris Allen Injured In Car Accident
|
January 2, 2013 at 1:00 PM EDT
2013 didn't get off to a great start for American Idol winner Kris Allen, as he was involved in a head-on crash that sent him and his pregnant wife to the hospital. Kris Allen was the winner of American Idol Season 8 and had a rough 2012, as he split from his recording label, RCA Records, and now was out trying to establish himself again and increase record sales. Kris Allen injured in car accident, but it is nothing that will keep him back from going out and performing.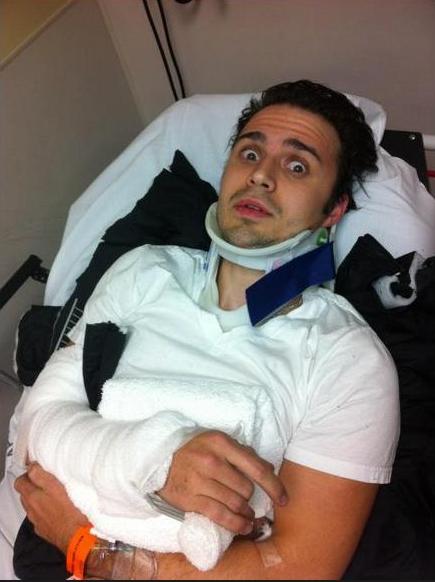 The accident left Kris Allen with a broken arm while his wife was left with unspecified injuries. His mother tweeted out the picture above saying, "From Kris: he's in a lot of pain, arm broke, may not play guitar for a while. Prayers welcome please! #headoncollision"

While it looks like he might be in rough shape, the American Idol Season 8 winner went to Twitter as well to let his fans know that he was doing alright: "Thank you @Ford for equipping me with a car that kept my whole family @katyallen @ZorroPup and the little one we have on the way safe." If you don't remember, during his road to the finale of American Idol Season 8, Kris Allen won a car from Ford. I guess three years later the car is still going strong, but probably not now after that head-on-collision.
He also assured fans that the tour goes on, even with the injuries: "Don't worry everyone I may have broken my wrist but the #OutAliveTour is still on." Kris is scheduled to have surgery today, but should be ready to perform in Boston on January 9. A speedy recovery for him!
Join us on RealityRewind.com for all your American Idol 2013 news, recaps, previews and predictions. Subscribe to our Email and RSS or like us on Facebook and follow us on Twitter for all our latest updates.
SHARE YOUR THOUGHTS! LEAVE A COMMENT NOW:
Commenting Rules:
Keep the conversation civil and on topic. If your comment does not add to the conversation or is insulting to others, it will be removed. Debate intelligently. No ALL-CAPS.