American Idol Judge Jennifer Lopez Laughed Off Nip Slip Accusations
|
February 28, 2012 at 12:06 PM EDT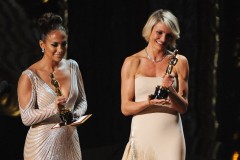 American Idol judge Jennifer Lopez laughed off nip slip accusations. Jennifer Lopez couldn't contain her amusement when she learned about the drama surrounding her possible nipple exposure moment at the Oscars last night; this according to her personal stylist. TMZ spoke with Rob Zangardi, who personally zipped J.Lo into her Oscars dress, and then helped her change into another low cut outfit after the show.
Rob says he and fellow stylist Mariel Haenn personally informed Lopez about the buzz surrounding her areola during the outfit change and J.Lo simply laughed it off. Rob says that Lopez then assured the team she was so tightly packed into her dress, there was no possible way a nip could've slipped.

Rob says that he's concinved the object on Jennifers chest was a shadow from the lighting. There were alot of low-cut dresses that night, but Lopez was the only presenter to have a supposed wardrobe malfunction, and the object was there no matter what angle she was filmed (see above photo). Do you think it was the lighting? Follow us on Facebook by clicking here. Follow us on Twitter by clicking here.
SHARE YOUR THOUGHTS! LEAVE A COMMENT NOW:
Commenting Rules:
Keep the conversation civil and on topic. If your comment does not add to the conversation or is insulting to others, it will be removed. Debate intelligently. No ALL-CAPS.