American Idol 2014 Spoilers: Season 13 Finale Heading To NYC!
|
January 15, 2014 at 10:17 AM EDT
We all know that FOX has made some huge (and many) changes to American Idol 2014, including new American Idol judges 2014 (Jennifer Lopez, Keith Urban and Harry Connick, Jr.), but one of the big changes coming to American Idol Season 13 happens to be the location of the Grand Finale and it will no longer take place in Los Angeles and the producers will be moving it to New York City! This is a huge move, especially since all of the live shows are done in Los Angeles, so why the move to New York City for the finale of American Idol 2014? Find out some details in our American Idol 2014 spoilers below!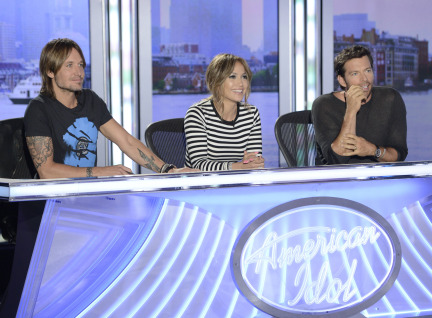 In case you missed it, we did give you the full schedule for American Idol Season 13 yesterday and it looks like there will be a lot of changes coming our way, which I think is good and is needed. The show had been headed in a bad direction, which is why the ratings have been going downhill and overtaken by The Big Bang Theory. New producers at the helm and new ideas coming our way!

Instead of the huge hoopla at the Nokia Theater in Los Angeles, it appears that the huge hoopla will be moving to New York City for the finale of American Idol 2014. The finale will take place on May 20 and 21 and will take place at Madison Square Garden in New York City! I think this is a move to keep the fans involved and keep things fresh, which I like!
Join us tonight on Reality Rewind for our American Idol 2014 Spoilers Recap. Let's watch together as the American Idol Season 13 auditions begin! Get all the scoop from our partner site American Idol Net. Subscribe to our Email and RSS or like us on Facebook and follow us on Twitter for all our latest updates.
SHARE YOUR THOUGHTS! LEAVE A COMMENT NOW:
Commenting Rules:
Keep the conversation civil and on topic. If your comment does not add to the conversation or is insulting to others, it will be removed. Debate intelligently. No ALL-CAPS.