American Idol 2012 Voted Off Jeremy Rosado, Emotional Departure From Top 13
|
March 9, 2012 at 12:31 PM EDT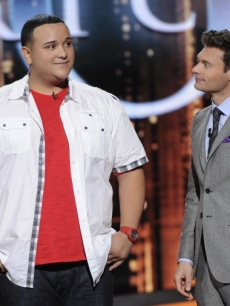 "American Idol" contestant Jeremy Rosado – who was sent packing on Thursday night – told Access Hollywood that he's grateful for the experience. Despite his early elimination from the competition, Jeremy felt comforted by a little consolation prize.
"This has been a huge blessing, I can't be upset at myself — 13 out of a 100,000 people," he told Access Hollywood after his elimination. "God has truly blessed me and thank you to all the fans that did vote and thank you for all the support and love and I love you guys… I would do this all over again tomorrow if I had to."
"Jennifer Lopez giving you a kiss on the cheek definitely feels pretty good," he said with a smile. "I'm not upset that the other contestants stayed because I love each and every one of them it just sucks, you know, that it's you."
The singer, who performed Stevie Wonder's "Ribbon In The Sky" on Wednesday night, told Access Hollywood that it's just the beginning.
"Life is next for me I'm going to go kiss my mom, going to give her a big hug and this isn't the end. This is the beginning of my career," he told Access. "This is like my break into show business, right? Like acting, singing, everything from this is going to be great, so I'm excited."
SHARE YOUR THOUGHTS! LEAVE A COMMENT NOW:
Commenting Rules:
Keep the conversation civil and on topic. If your comment does not add to the conversation or is insulting to others, it will be removed. Debate intelligently. No ALL-CAPS.