American Idol 2012, Jim Carrey's Daughter Jane Audition Video
|
January 26, 2012 at 12:20 AM EDT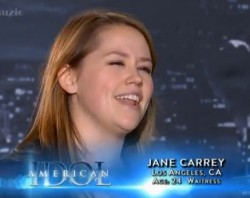 American Idol 2012, Jim Carrey's daughter Jane audition video can be found below. Idol viewers were first introduced to a young woman who introduced herself as a mom and a waitress, but later revealed she's also Jim Carrey's daughter, Jane.
Jennifer Lopez had a little bit of a freak-out because she remembered Jane as a baby from when the "American Idol" judge and Jim Carrey were both on "In Living Color."

Carrey noted that being the daughter of a famous actor "definitely helps and hurts," explaining, "There's this pressure to be better" because people will invariably think she got to where she is because of her last name.
Jane then performed "Something to Talk About," and was voted onto the next round without a doubt.
Moments later she was shown on her cell phone with her dad, who congratulated her and said, "This is really going to be an exciting year."
Will you be voting for Jane?
Check out the video below!
SHARE YOUR THOUGHTS! LEAVE A COMMENT NOW:
Commenting Rules:
Keep the conversation civil and on topic. If your comment does not add to the conversation or is insulting to others, it will be removed. Debate intelligently. No ALL-CAPS.