Subscribe to Reality Rewind:
May 23, 2012
American Idol 2012 Jessica Sanchez Performs Whitney Houston During Finale, Video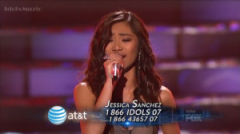 American Idol 2012 Jessica Sanchez performs Whitney Houston during finale, video below. Jessica Sanchez set out on Tuesday to prove why she deserves to be the next American Idol. The 16-year-old performed three songs on part one of the season finale: Whitney Houston's "I Have Nothing," "The Prayer" and "Change Nothing."
"Change Nothing" will be Sanchez's first single if she wins – though the judges didn't think the song best suited her style. They did, however, love her take on Houston's song, just as they did her rendition of "I Will Always Love You" earlier in the season.If Sanchez beats Phillip Phillips on Wednesday, she'll be the first female American Idol since season 6′s Jordin Sparks won in 2007 – and the show's youngest winner ever.