Amazing Race Season 22 Preview: Episode 8 – Cheese Wheels (VIDEO)
|
April 14, 2013 at 2:00 PM EDT
The teams head to Switzerland tonight on Amazing Race Season 22 and they may have been hot while in Africa, but that is about to change with the snow and cold temperatures in Switzerland for these six remaining teams on The Amazing Race 2013 tonight. From climbing cliffs to pushing cheese wheels up a snowy hill, it looks like tonight on Amazing Race Season 22 that things could get a little rough for these teams. Find out during our Amazing Race Season 22 Live Recap and find out who was eliminated on Amazing Race 22 tonight with us!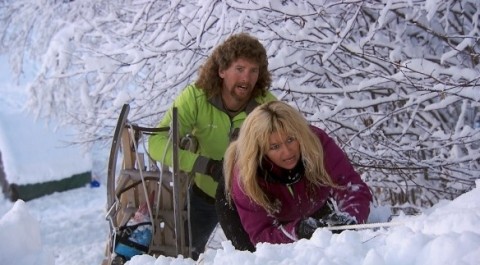 It was African safari time last week on The Amazing Race 22, as the teams rushed through the lands of Africa is hopes of not being the last team to check in with Phil Keoghan. Despite having a Speed Bump to overcome, Max and Katie managed to check-in as the sixth team, which left Pam and Winnie as the last team and they were eliminated from the race.

Amazing Race Season 22 tonight will have the teams traveling to Switzerland and take on challenges of pushing 200 pounds of cheese wheels up a snowy hill, climbing the cliffs and working with some cute dogs! You won't want to miss a thing, so check out the Amazing Race Season 22 preview here and come back for our Live Recap tonight:
Join us tonight on Reality Rewind for our The Amazing Race 22 Recap. Let's see who was eliminated from The Amazing Race 2013 together! Subscribe to our Email and RSS or like us on Facebook and follow us on Twitter for all our latest updates.
SHARE YOUR THOUGHTS! LEAVE A COMMENT NOW:
Commenting Rules:
Keep the conversation civil and on topic. If your comment does not add to the conversation or is insulting to others, it will be removed. Debate intelligently. No ALL-CAPS.