Subscribe to Reality Rewind:
February 26, 2012
Academy Awards 2012 Sacha Baron Cohen Throws Ashes On Ryan Seacrest Video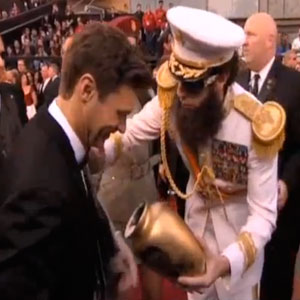 Academy Awards 2012 Sacha Baron Cohen throws ashes on Ryan Seacrest video. It was an unpredicable night at the Academy Awards, with alot of action going on while guests were still on the carpet. E! News Host Ryan Seacrest was ashed, and the culprit may now have charges pressed against him.
Watch the video below to see Sacha Baron Cohen spilling ashes all over the host while in his character, "The Dictators". Seacrest was not pleased.
When Ryan asked the dictator if one of the biggest perks of being so powerful was that he got to attend the Oscars, Sacha replied.
"It gave me an opportunity to bring my dear friend and doubles tennis partner, Kim Jong Il," Cohen replied, hoisting an urn. "It was his dream to come to the Oscars and be sprinkled over the red carpet and Halle Berry's chest again." Seacrest was stunned and we can only imagine what legal matters will arise.